Economic diplomacy
Japan Australia Economic Partnership Agreement (JAEPA)
The Japan Australia Economic Partnership Agreement (JAEPA) was signed in Canberra on 8 July 2014. The agreement entered into force on 15 January 2015.
JAEPA benefits both Australia and Japan. The agreement creates economic growth by increasing opportunities for investment and trade. It is bringing our economies and societies even closer, and will underpin a strong relationship for many years to come.
JAEPA benefits Japanese consumers, farmers and food producers. Consumers enjoy lower prices on Australian food imports, including Australian beef, dairy and horticulture products and gain a greater choice and wider access to high quality Australian products such as wine, cheese, ice-cream and seafood.
Australia reliably produces and supplies clean, safe and high quality food products to Japan. Under JAEPA, the cost of raw ingredients used by Japan's food processing industries and the cost of key inputs to Japanese agriculture, such as imported animal feed used by Japan's livestock breeding industries, is lowered.
JAEPA is a modern agreement which will enhance the competiveness of Japanese industry and investment in Australia; under JAEPA, all Japanese vehicles and parts, as well as electronic goods, will enter Australia tariff free, increasing the competitiveness of Japanese producers.
The EPA has created impetus in negotiations for other economic agreements beneficial for both Japan and Australia, such as the Trans-Pacific Partnership (TPP), signed in February 2016.
2017 - 60th Anniversary of the signing of the Australia-Japan Agreement on Commerce
On 6 July 1957, the Agreement on Commerce between Australian and Japan was signed in Hakone, Japan. Sixty years since this ground-breaking partnership, our trade and investment relationship with Japan is robust and productive, aided further by gains from the 2014 Japan-Australia Economic Partnership Agreement (JAEPA).
Ambassador Richard Court AC hosted a celebration of the 60th anniversary of the Commerce Agreement during the visits of Minister for Foreign Affairs the Hon Julie Bishop MP and Minister for Trade, Tourism and Investment the Hon Steven Ciobo MP. Japan's State Minister of Foreign Affairs Mr Nobuo Kishi attended as a guest of honour.
Ambassador Court posted his thoughts on the 60th anniversary on the Department of Foreign Affairs and Trade's blog.
International cooperation and defence
Based on the 2007 Joint Declaration on Security Cooperation, security and defence cooperation forms one of important pillars of the bilateral relationship. We have also signed an Acquisition and Cross Servicing Agreement on defence logistics cooperation, and an Information Security Agreement on the sharing of classified information.
Australia and Japan have been cooperating in responding to various global crises, such as the search of Malaysia Airlines Flight 370, the relief activities after the 2013 Typhoon Haiyan in the Philippines, and disaster relief operations after the Great East Japan Earthquake and Tsunami.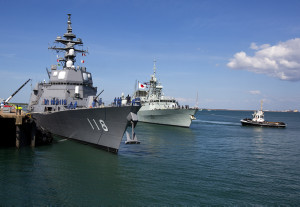 Australia and Japan have a strong history of cooperation in United Nations peacekeeping missions, including in East Timor and Cambodia. We have worked closely together in the international peacekeeping operation in South Sudan since 2012.
Australia and Japan have been maintaining dialogue on humanitarian assistance and disaster relief, maritime security, cyber security, and peacekeeping activities, in order to not only deepen practical cooperation, but also prepare for future challenges.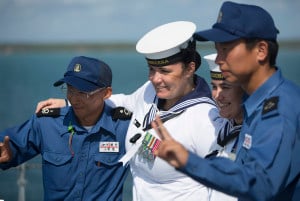 For example, in 2016, Japan took part in Exercise KAKADU, a biennial exercise hosted by the Royal Australian Navy and supported by the Royal Australian Air Force. Kakadu is the Navy's premier maritime exercise, developing interoperability between nations in the maritime and air domains, and providing training opportunities for maritime security and surveillance.
Our aim is to continue to seek mutually beneficial cooperation areas in collaboration with Japan.
For further details, please refer to the DFAT Japan Brief.
Or get more information on the Commonwealth War Cemetery in Yokohama, Hodogaya.
Australia-Japan resources and energy relationship
Australia has extensive energy and mineral resources. It is the world's largest exporter of iron ore, and is forecast to become the world's largest exporter of both coal and LNG in coming years. Australia also has the world's largest uranium resources.
Australia is the biggest supplier of energy and key minerals to Japan, reflecting Australia's position as a reliable, safe and competitive producer of raw resources. Australia provides around two-thirds of Japan's coal, and one-fifth of Japan's LNG imports. Australia also provides over 60 per cent of Japan's iron ore imports.
Australia and Japan have long shared a highly-complementary relationship in the energy and resources sector. Japanese investment was crucial to the development of Australia's coal and iron ore export industries in the 1960s and 1970s. And Japan has been a leading investor in Australia's LNG export industry since the 1980s. Australia and Japan work very closely on developing renewable energy technology and clean coal technology, and regularly engage in policy discussions on energy and resource issues at senior levels.
People-to-people links
Strong people-to-people links contribute significantly to the strength of our bilateral relationship. These links are reflected in extensive and well-established sister city relationships. There are currently 102 sister city relationships and 6 state-to-state relationships between Japan and Australia. They allow for an exchange of culture, sports, education, social and economic practises.
Read more about the sister city relationships between Australia and Japan here, or on the CLAIR Sydney website.
In addition, over 650 sister schools exist between Australia and Japan. In fact, Australia is the most popular destination for Japanese school study tours and sister school exchanges.
For example, band members from Ichijo High School in Nara City, visited their sister city, Canberra, in 2016 to perform for locals.
A major factor in Australia and Japan's strong people-to-people connections is the commitment to study each other's language. Currently Japanese is still the most widely studied foreign language in Australian schools and universities, with around 360,000 students studying across primary to tertiary levels. These figures place Australia fourth in the world in terms of the number of Japanese language learners.
Education and research links
Japan is a global leader in education, research, science and innovation, and analysis shows that researchers in both Australia and Japan benefit (in quality and impact) when they work together. Australia and Japan already enjoy a wide range of links at the school, university, science agency and company levels. Building on a long history of high quality cooperation, we want education, research and science to play a stronger role in Australia's partnership with Japan into the future.
Read more about the Japan-Australia education and research relationship please visit http://internationaleducation.gov.au.
Read more about Australia's international science collaboration please visit http://science.gov.au.
In December 2014 the Australian Embassy in Tokyo held a successful symposium and roundtable on internationalisation in higher education. The event was a collaborative effort between the Australian Government Department of Education and Training, Austrade, the Department of Foreign Affairs and Trade, and Universities Australia.
Read more about strategies to increase university partnerships please visit Australia's international education site.
Australia-Japan Foundation
The Australia-Japan Foundation (AJF) was established by the Australian Government in 1976 to expand and develop contact and exchange between the peoples of Australia and Japan and to help project positive images of Australia and Japan in each other's country.
Since its creation, the Foundation has worked to promote the people-to-people links across a diverse range of sectors. The current objectives of the Foundation are to:
increase understanding in Japan of shared interests with Australia
increase understanding in Australia of the importance of Japan to Australia as an economic and strategic partner
increase recognition in Japan of Australian excellence and expertise.
Australia supports Tohoku region
Since the devastation caused by the 2011 Great East Earthquake and Tsunami, Australia has shown tremendous support to the Tohoku region. Then-Australian Prime Minister, Julia Gillard, was the first foreign leader to visit the region and Australia provided much support through food aid packages, donations and relief teams on the ground when it was needed most. Since 2011, the AJF has provided nearly $1 million in grant funds to Tohoku, particularly to community-driven activities.
Australia and Japan have forged even stronger, more resilient friendships through ongoing projects including one that provides Japanese students from Minami Sanriku a chance to broaden their perspectives and develop meaningful connections with Australia through a homestay and study program. You can read about the students motivations for visiting Australia in their essays here.
Australia has also provided support through projects such as a mobile library and a playground for children from Iitate who were forced to relocate after the disaster through the Australia-Japan Foundation. The Australia-Japan Foundation has been assisting the communities of the Tohoku region to recover from the devastation of the earthquake/tsunami of 11 March 2011. This remains one of the Foundation's priority areas. Read more about the Reconstruction Initiative.
Many of the projects Australia has participated in can be found on the following website.