The Australia–Japan partnership is our closest and most mature in Asia, and is fundamentally important to both countries' strategic and economic interests. The relationship is underpinned by a shared commitment to democracy, human rights and the rule of law, as well as common approaches to international security.
There have been three major phases in the development of the post-war Australia-Japan relationship:
Today, the warmth and broad scope of the bilateral relationship is articulated in our shared Partnership Agenda.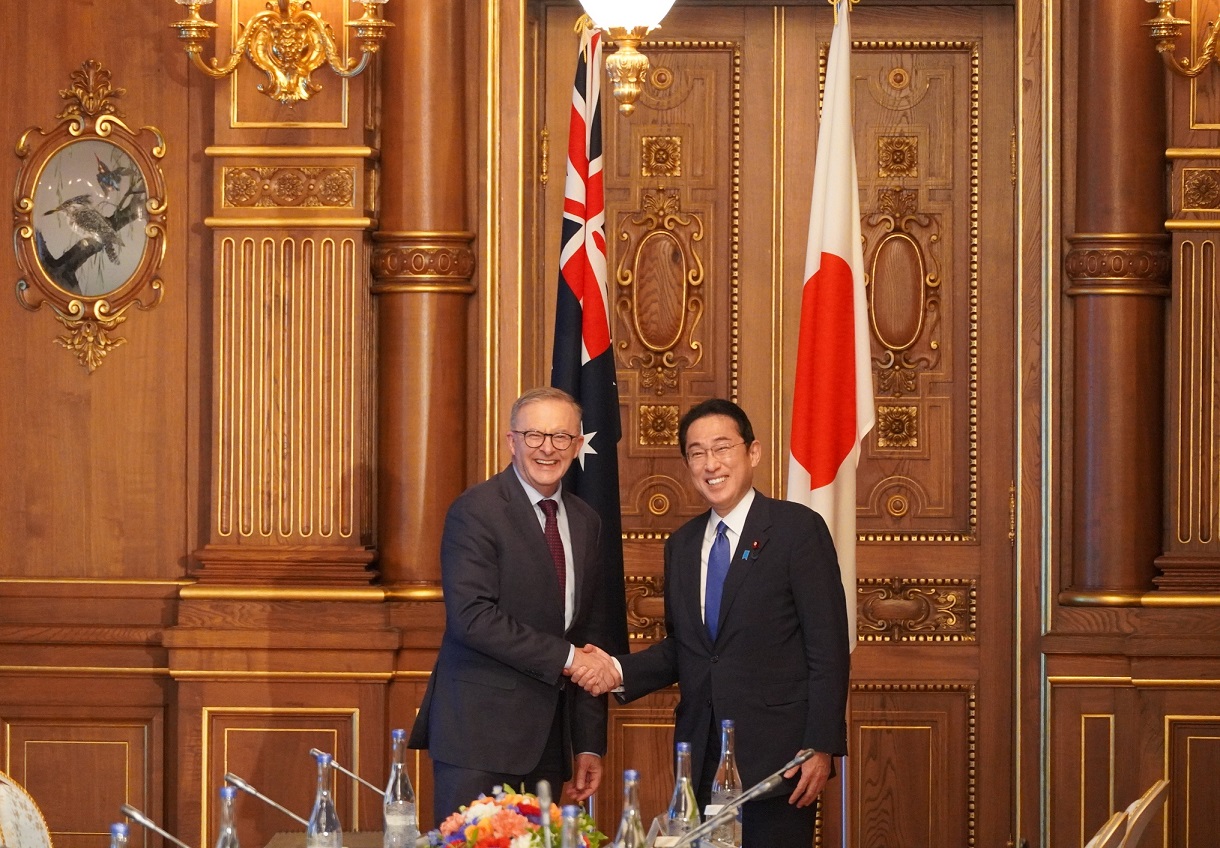 Australia and Japan have a strong and broad-ranging security relationship. Our two countries work very closely in conjunction with our common ally, the United States, and in critical regional partnerships with countries such as India and the Republic of Korea (ROK). Australia and Japan regularly participate in joint defence exercises and frequently consult on regional security issues, such as the nuclear tests and ballistic missile launches undertaken by the Democratic People's Republic of Korea (DPRK).
The 2007 Joint Declaration on Security Cooperation (JDSC) provides a foundation for wide-ranging cooperation on security issues between Australia and Japan, including in law enforcement, border security, counter-terrorism, disarmament and counter-proliferation of weapons of mass destruction, maritime and aviation security, peace operations and humanitarian relief operations. We have worked closely together in key defence operations, including in Iraq, East Timor, and Pakistan.
Australia and Japan hold regular '2+2' talks between foreign and defence ministers. At the 9th 2+2 talks on 9 June 2021, Ministers reaffirmed the strength of the Special Strategic Partnership. They reiterated their determination to work together, and with the United States and other partners, to maintain and promote a free, open, inclusive and prosperous Indo-Pacific. Outcomes agreed by Ministers included updating the JDSC, deepening cooperation on cyber and critical technology, coordinating vaccine related assistance in Southeast Asia and the Pacific, and improving information sharing. The 2021 2+2 meeting built on the many previous outcomes of the 2+2 process, including an Acquisition and Cross Servicing Agreement (ACSA) on defence logistics cooperation, which entered into force on 31 January 2013, and an Information Security Agreement on the sharing of classified information, which entered into force in March 2013. A revised ACSA was signed in January 2017 and came into force in September 2017.
In 2014, the leaders of both countries elevated the Australia-Japan relationship to a 'Special Strategic Partnership'. In January 2018 then Prime Minister Turnbull visited Japan, and in November 2018 Prime Minister Abe visited Australia, including a historic visit to Darwin. Prime Minister Morrison was due to visit Japan in January 2020, but this was postponed due to the Australian bushfires. Japan provided valuable support for Australia's bushfire response, including two Hercules aircraft to transport military and civilian personnel, protective masks, and over $5 million in cash donations. Prime Minister Morrison visited Japan in November 2020, the first leader to visit Tokyo to meet the Prime Minister Suga, where they announced in-principle agreement to the Reciprocal Access Agreement. Our Prime Ministers' annual meetings are complemented by a host of regular Ministerial interactions.
As COVID-19 has made in-person meetings difficult, Japanese and Australian leaders, ministers and senior officials have continued a high frequency of engagement over video and tele-conferences. Our Prime Ministers conducted their first ever virtual summit on 9 July 2020. The leaders discussed responses to COVID-19 and agreed to work together towards an open, prosperous and inclusive Indo-Pacific region. They also issued a joint statement. The Prime Ministers also welcomed a Memorandum of Cooperation between the Australian Space Agency and the Japan Aerospace Exploration Agency (JAXA) providing new opportunities to increase space collaboration between our two countries.
Australia and Japan together with the United States and India are members of the Quadrilateral Strategic Dialogue or Quad. The Quad has a positive practical agenda focused on supporting an open, inclusive and resilient Indo-Pacific region. Prime Minister Morrison met then Prime Minister Suga, President Biden, and Prime Minister Modi for the first in-person Quad Leaders' Summit on 24 September 2021 in Washington. The historic Summit – six months after leaders' first virtual meeting in March - sent a powerful signal of the Quad's commitment to addressing the defining challenges of our times.
Australia and Japan have jointly led efforts in support of the Nuclear Non-Proliferation Treaty, including as co-founders of the cross-regional Non-Proliferation and Disarmament Initiative (NPDI) established in 2010. Australia and Japan are also co-Chairs of the Friends of the Comprehensive Nuclear Test-Ban Treaty (CTBT) group.
Australia and Japan are also founding members (alongside the US) of the Trilateral Partnership for Infrastructure Investment in the Indo-Pacific. The Trilateral Infrastructure Partnership promotes sustainable infrastructure development and is focused on mobilising private investment in regional infrastructure.
Australia and Japan are close partners in regional forums such as Asia Pacific Economic Cooperation (APEC) and the East Asia Summit (EAS). Australia supports Japan's aspiration to become a permanent member of the United Nations Security Council. Our 2011 Memorandum of Understanding on international development cooperation facilitates information exchange and cooperation in sectors such as education, health, food security and infrastructure. In 2016, we agreed to a 'Strategy for Cooperation in the Pacific.' The Strategy outlined four areas for cooperation: effective governance, economic growth and sustainable development, security and defence cooperation, and diplomatic initiatives. As a close friend, Australia provided extensive assistance to Japan following the 2011 Great East Japan earthquake and tsunami, including specialised personnel, defence aircraft, and a donation of $10 million.