Australia in Brief
DFAT's Australia in Brief publication provides an overview of Australia, including information on Australia's trade, economy, foreign relations, environment, government, Indigenous peoples, science, culture and more.
Ministry list
A current ministry list is available here.
Resources in Japanese
The Embassy provides various resources about Australia.

"Australia in Brief"
"Motto shiritai! Australia (Tell Me About Australia)" is a booklet made for Japanese students to learn about the general lifestyle, culture and history about Australia. Download (64pages PDF 6MB).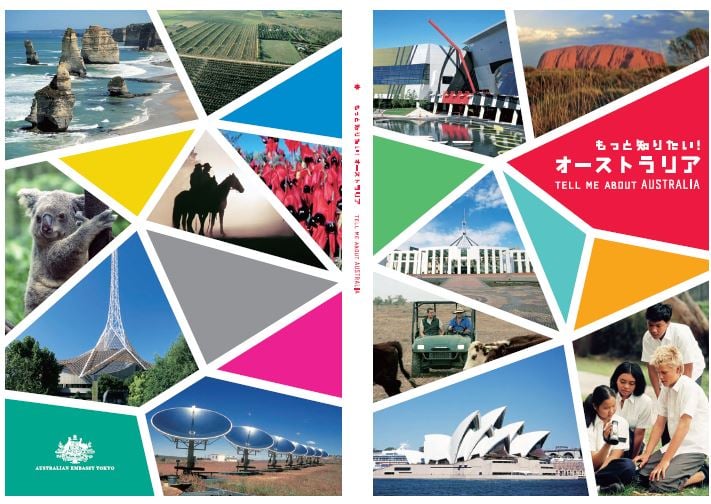 The Australia-Japan Foundation provides an online educational tool called "The Virtual tour 'Homestay in Australia". This online resource targets Japanese junior high school students to learn about Australia in Japanese. The User will do a virtual 'homestay' and is guided by six Australian students covering areas such as History, Industries, Culture and Lifestyles. It was developed to meet Japanese Curriculum guidelines in the social studies subject, when students learn about various regions across the world. We also hope to promote Australia as a popular destination for homestays and study abroad through their learning experience.
It can be utilised in different ways including international education opportunities such as prior to study in Australia or short school excursion trips.
In its "Vision for ICT in Education" the Japanese Ministry of Education, Culture, Sports, Science, and Technology (MEXT) hopes that by 2020, all students in Primary and Secondary schools will have a personal tablet computer. We hope this tool will be utilized in Japanese classrooms for ICT learning purposes, as it can be easily used on both computers and tablets.
URL: http://australiamanabo.com


Other resources
The australia.gov.au website contains some useful resources for those who would like learn about Australia.
Tourism Australia also provides information on Australia, including information on climate, time zones, currency and Australian animals.