Australia is a land of old and new, where more than 60,000 years of heritage and tradition is incorporated into contemporary culture. This exciting blend of ancient and cutting-edge expression is what makes Australia the dynamic and innovative society it is today.
The Australian Embassy's Public Diplomacy Section has a proactive cultural program designed to promote and showcase Australia's vibrant and diverse society in Japan.
We work with Australian and Japanese Government agencies and arts organisations to increase opportunities for the Australian arts industry and to foster strong cultural links between our two countries.
Our major activities include:
strengthening existing relationships and cultivating new networks between Australian and Japanese key cultural decision makers and arts professionals
consolidating Australia-Japan government-to-government partnerships that provide the foundation for bilateral cultural activities
providing information on Australian arts and cultural projects in Japan through our website, social media and other channels
Australia House is located in the mountainous Echigo-Tsumari region and has been Australia's artistic hub in Japan and a base for cultural exchanges, including artist (and curator)-in-residence programs and art exhibitions. Click here for more details on Australia House.
Australia now 2018, a celebration of Australian innovation, lifestyle and creativity in Japan, was an exciting eight-month program presented by the Australian Government showcasing contemporary Australia. From the time Yorta Yorta soprano Deborah Cheetham AO and Sarah Àlainn opened the program in April, until the end of the program in December 2018, over 420,000 visitors participated in around 220 Australia now events in 28 prefectures across Japan.
Here is the Australia now wrap-up video!
Australian arts and culture is rich and dynamic and is becoming increasingly prominent in the Japanese art scene. Australia's creative industries have built a global reputation for innovation, talent and energy and play an important role in the Australian economy.
This showcase explores a selection of successful past projects and highlights cultural institutions that have hosted Australian-related events. It is not an exhaustive list, but Australian art professionals may find this a useful tool for exploring possible future activities within Japan.
Indigenous arts and culture
Indigenous Australians are the custodians of one of the oldest continuous living cultures in the world. Indigenous Australian history dates back more than 60,000 years. Torres Strait Islander peoples come from the islands of the Torres Strait, between the tip of Cape York in Queensland and Papua New Guinea. Torres Strait Islanders are of Melanesian origin with their own distinct identity, history and cultural traditions.
Indigenous culture is diverse, and contributes strongly to Australia's national identity and arts scene.
Australian Indigenous art is still richly produced today and embodies a range of form and media reflecting diversity in language, landscape and culture across Indigenous society. Click here for more details on past events.
NAIDOC Week celebrations are held across Australia each July to celebrate the history, culture and achievements of Aboriginal and Torres Strait Islander peoples (in 2020 it has been rescheduled to November). In 2017, the Australian Embassy hosted an exhibition featuring the didgeridoo.
Showcase: 2016-2017 - One Road: Aboriginal Art from Australia's Deserts
The One Road exhibition is based on Yiwarra Kuju: The Canning Stock Route. Yiwarra Kuju was developed by the National Museum of Australia and FORM and toured Australia from 2010 to 2013.
One Road tells the artists' stories of first contact with white men, livestock and machines. It explores the change from hunter–gatherer existence to life as international artists.
The exhibition is currently on tour in Japan (Osaka, Takamatsu, Chiba and Hokkaido) from June 2016- May 2017. For details please refer to the Events page.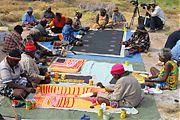 Artists' bush studio camp at Well 36 photograph by Tim Acker, 2007
Showcase: 2008 - Utopia: The Genius of Emily Kame Kngwarreye
Emily Kame Kngwarreye was an Aboriginal artist who began painting canvases when she was around 78 years old. In the period between 1988 and 1996 Emily produced a staggering 3000 canvasses of unique Indigenous art that reflect the environment of her community of Utopia in the Central Australian Desert. Her acclaimed painting style has been compared by prominent art critics to 20th century abstract expressionists such as Jackson Pollock and Mark Rothko.
An exhibition showcased 120 works of Emily displayed at the National Museum of Art, Osaka and then the National Arts Centre, Tokyo. It was well received by Japan, attracting more than 120,000 visitors. Utopia: The Genius of Emily Kame Kngwarreye is the largest collection of works by a single Australian artist to be displayed overseas.
(Above left) My Country AKA The Last Series, 1996,Synthetic polymer paint on canvas, 58.0 x 87.5 cm,Collection of Amanda Howe,© Emily Kame Kngwarreye. Licensed by VISCOPY, Sydney, 2007.
(Below left) My Country, 1996,Synthetic polymer paint on canvas, 55.5 x 76.5 cm, Private Collection, © Emily Kame Kngwarreye. Licensed by VISCOPY, Sydney, 2007.
(Centre) Emily Kame Kngwarreye Photograph by Greg Weight
(Above right) Kam[e], 1991, Synthetic polymer paint on canvas, 137.8 x 303.1 cm, National Gallery of Victoria, Melbourne, Purchased from Admission Funds, 1992 © Emily Kame Kngwarreye. Licensed by VISCOPY, Sydney, 2007.
(Below right) Big Yam Dreaming, 1995,Synthetic polymer paint on canvas, 291.1 x 801.8 cm,National Gallery of Victoria, Melbourne, Presented through The Art Foundation of Victoria by Janet and Donald Holt and family, Governors, 1995, © Emily Kame Kngwarreye. Licensed by VISCOPY, Sydney, 2007.
Visual arts
Visual arts in Australia comes in a great diversity of mediums, including photography, multimedia, sculpture, installations, drawings, paintings and performance art. Since the 1970s, the works of Indigenous artists have attracted international attention, and Australian artists regularly participate in international art festivals.
Showcase: Art journey in Setouchi
The Setouchi International Art Festival 2010, held on seven islands across 3 months, was an opportunity for Australian artists to show off their creativity, talent and skills. Seven Australian artists – Cameron Robbins, Sue Pedley, Claire Healy, Sean Cordeiro, Dadang Christanto, James Darling and Lesley Forwood – showed their works on the three islands of Teshima, Shodoshima and Ogijima. For the second festival held in 2013, Craig Walsh and Hiromi Tango created an installation work in conjunction with the people of Teshima Island.
For more information, please visit the Setouchi International Art Festival website.
Media art
From 2001, the Australian Embassy has supported the showcasing of Australian Media Art in Japan. Media Art is the mixing of innovation and technologies in the creation of art. It has become an integral part of the Australian art scene. Australia has many leading artists in the Media Art scene, including Patricia Piccinini, SymbioticA, Jeffrey Shaw, Troy Innocent and Stelarc.
Showcase: Japan Media Arts Festival
Each year the Japan Media Arts Festival is held in February. Australian Artists regularly participate. The festival provides artists the opportunity to engage counterparts from around the world through presentations and workshops. For more information, please visit the Japan Media Arts Festival website.
Performing arts
Australia is home to a diverse range of performing art groups, such as musicians, dance troupes and theatre performers, all whom display energy and diversity emblematic of Australian culture.
Many performers are involved in international exchanges. The Bangarra Dance Theatre, Australian Dance Theatre and Circus Oz, amongst others, are recognised internationally for the quality of their productions and have undertaken world tours. Even smaller companies, such as dance troupe Chunky Move, have toured the Middle East.
Showcase: Tim Watts' The Adventures of Alvin Sputnik: Deep Sea Explorer
The Adventures of Alvin Sputnik: Deep Sea Explorer is an innovative solo performance, by Australian performer Tim Watts, combining animation, finger puppets, projections, a ukulele and songs. Tim Watts tells the futuristic story of Alvin Sputnik a deep sea explorer whose mission is to journey into the depths of the ocean to find a new place for survivors to live after the seas have risen and destroyed most of humanity.
Tim Watts is the man behind the show – literally as he is the deviser, director, producer and performer. This performance was both a powerful work of art and top-quality entertainment, and received high praise and acclaim from across the globe, including the New York Times:
"Alvin Sputnik … an endearing Australian solo show told in stick-figure animation and puppetry … akin to a theatrical Wall-E" and Broadway.com: "I highly doubt any $40 million Broadway spectacles could pack such emotional wallop into two-and-a-half-hours as Mr. Watts does into 45 minutes."
Performances included the World Theatre Festival Shizuoka under Mt Fuji, TACT Festival in Osaka, 21st Century Museum of Contemporary Art in Kanazawa, Uriko Theatre in Nagaya, and BIRD Theatre Festival in Tottori.
Showcase: Polyglot Theatre: 'We Built This City'
Australia's renowned Polyglot theatre company toured Japan presenting their production We Built This City. It allowed children to build an imaginary city out of cardboard which they then dismantled at the end of the show. Live and mixed music along with gregarious characters encouraged children to exercise their skills in cooperation, compromise and practical application throughout the performance.
Polyglot performed at Kijimuna Festival, an annual event in Okinawa and Asia's largest youth festival. They also performed in Minami Sanriku to show Australia's support to the Tohoku region after the Great East Earthquake, funded in part by the Australia-Japan Foundation.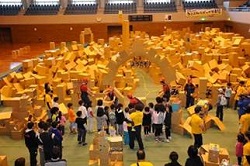 Showcase: Translation of Australian plays
Australia has a great number of famous and well-loved plays. A recent project has involved the translation of these texts into Japanese to allow Japanese audiences to appreciate these texts. Please see the following PDF for a list of Australian plays that have been translated into Japanese.
Film
Screen Australia's support for the film industry has resulted in many overseas film successes. Australian actors such as Cate Blanchett, Hugh Jackman, Nicole Kidman, Guy Pearce, Geoffrey Rush and Naomi Watts continue to receive acclaim in Japan.
Showcase: Tropfest
Tropfest, a prestigious short film festival, is an iconic cultural event in Australia and has significantly contributed to the development of Australia's film industry.
The Australian Embassy was thrilled to support the inaugural Tropfest in Japan at Yokohama Minato Mirai's Grand Mall Park in May 2014 by screening some of the most popular films to come out of Australia's 2013 Tropfest Festival. The event embraced the Tropfest culture and Australian atmosphere by offering visitors the opportunity to enjoy Australian cuisine and wine as they viewed the unique short films in the outdoors.
To find out more about the film festival, please visit the Tropfest Australia website.
Music
Australian music is another big export and covers an extraordinary range, from classical to contemporary to children's entertainment.
The Australian Chamber Orchestra regularly tours Japan, and guitarist Slava Grigoryan is one of a number of prominent classical musicians and composers who regularly tour and work overseas. An eclectic group of Australian contemporary artists have achieved international success in Japan, including AC/DC, Gotye, Nick Cave, INXS, Kylie Minogue, Keith Urban, and Geoffrey Gurrumul Yunupingu.
Showcase: Australian Jazz Journey
The Australian Embassy has been building connections over a long period of time to introduce Australian music onto the Japanese music scene. An excellent example of this is the Jazz Journey. Initially we introduced Australian Jazz artists to the Tokyo Jazz festival during the 2006 Year of Exchange. Since then, particularly in the wake of the Great Eastern Japan Earthquake, it has grown organically to include performances in the Tohoku region at local schools, the Iwate Jazz festival and the Jozenji Street Jazz Festival in Sendai.
As a result of these efforts, Australian musicians have been able to establish ties in Japan. Opportunities to perform and even release CDs in Japan are increasing.
Artists that have visited Japan as part of the Jazz Journey include:
The Marty Holoubek Trio/ Marty Holoubek with SMTK (2019)
Robert Burke Quartet (2018)
The Gravity Project (2017)
Paul Grabowsky Quartet (2016)
Paul Grabowsky Trio (2015)
Cookin' on 3 Burners (2014)
Dereb the Ambassador (2013)
Steven Rossito (2012)
Mike Nock Trio and Misinterprotato (2011)
Mike Nock Trio (2010)
Aaron Choulai Sextet, Mark Isaacs Resurgence Band and the Michelle Nicolle Quartet (2009)
Alister Spence Trio (2008)
Literature
Australian literature has transformed along with the course of time and trends of the society. After the multiculturalism policies were implemented in the 1970s, the multicultural aspects of Australia were shown widely, for example in migrant literature and indigenous literature, and revealed Australian literature to be unique to that of English literature. Patrick White has been awarded the 1973 Nobel Literature Prize, being the first Australian laureate in literature.
To introduce and showcase Australian literature in Japan, a project called "The Masterpieces of Australian Contemporary Literature Series" was established by Gendai Kikakushitsu Publishing in 2012. With the support of the Australia-Japan Foundation, the program aims to increase the recognition of contemporary Australian literature by translating and publishing Australian novels in Japan. Not only showcasing the excellence of Australian literature, the series looks to reveal 'Contemporary Australia' and share with the Japanese audience the diversity of its culture and society.
Supporting Institutions
Please see this PDF for a list of institutions that have supported events related to Australian arts and culture in the past.