Australia and Japan have long shared a highly-complementary mutually beneficial relationship in the energy and resources sector.
Japanese investment was crucial to the development of Australia's coal and iron ore export industries in the 1960s and 1970s.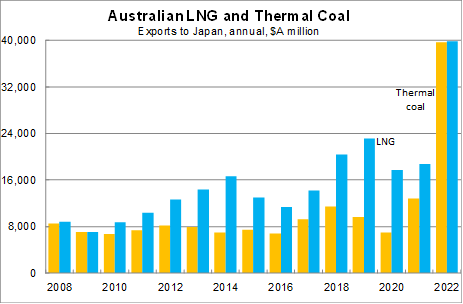 Additionally, Japan has been a leading investor in Australia's LNG export industry since the 1980s.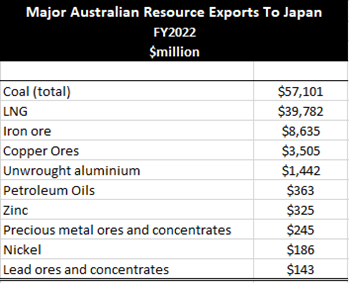 As a result, Japan is Australia's largest and most dependable LNG and coal market and major investor with thermal coal and LNG exports worth over A$300 billion over the past decade.
On the flip side, Australia is Japan's most important energy security partner reflecting Australia's position as a reliable, safe and competitive producer of raw resources. Australia supplied 43 per cent of Japan's LNG and 66 per cent per cent of coal (75 per cent thermal) in CY2022.
Other major resource exports include iron ore, copper, aluminium, zinc and nickel.
Australia and Japan are also working collaboratively on the joint development of critical minerals. Reflecting this, both countries signed a partnership agreement in October 20022 during Prime Minister Kishida's visit to Perth, Western Australia in October 2022.
Both Australia and Japan also share substantive climate change commitments out till 2030 as well as having net zero targets for 2050. These commitments are challenging but working together gives both our countries the best opportunity to meet those commitments as we transition towards clean energy options such as hydrogen and ammonia.