About science diplomacy
In support of the Government's National Innovation and Science Agenda, the Australian Embassy is building on existing ties of collaboration to make science, education, and innovation a stronger focus in our future bilateral relationship.
The Education and Science office at the Australian Embassy works with Japanese and Australian government agencies, peak bodies, education and research institutions, and industry to support this cooperation.
Our major activities include:
strengthening high-quality collaboration between Australian and Japanese researchers and industry
raising awareness of the quality of Australian research, innovation, and technology
strengthening partnerships to increase student mobility numbers in both directions
For more information on Australia's international collaboration:
The National Innovation and Science Agenda
The Prime Minister, Mr Malcolm Turnbull MP, announced the National Innovation and Science Agenda (NISA) on 7 December 2015. The NISA is an important step on the path to a more innovative and entrepreneurial economy.
It describes a vision for the future of Australia, one where Australians embrace new ideas in innovation and science and harness new sources of growth to deliver high wage jobs and seize the next wave of economic prosperity. The Government will invest $1.1 billion to incentivise innovation and entrepreneurship, reward risk taking, and promote science, maths and computing in schools.
The NISA will focus on four key pillars:
culture and capital
collaboration
skills and talent
Government as an exemplar
Read more on the National Innovation and Science Agenda website.
On his first international visit after announcing the NISA, the Prime Minister held a press conference at the Miraikan, National Museum for Emerging Science and Innovation, in Tokyo about the value of scientific collaboration between Australia and Japan to push the frontiers of innovation.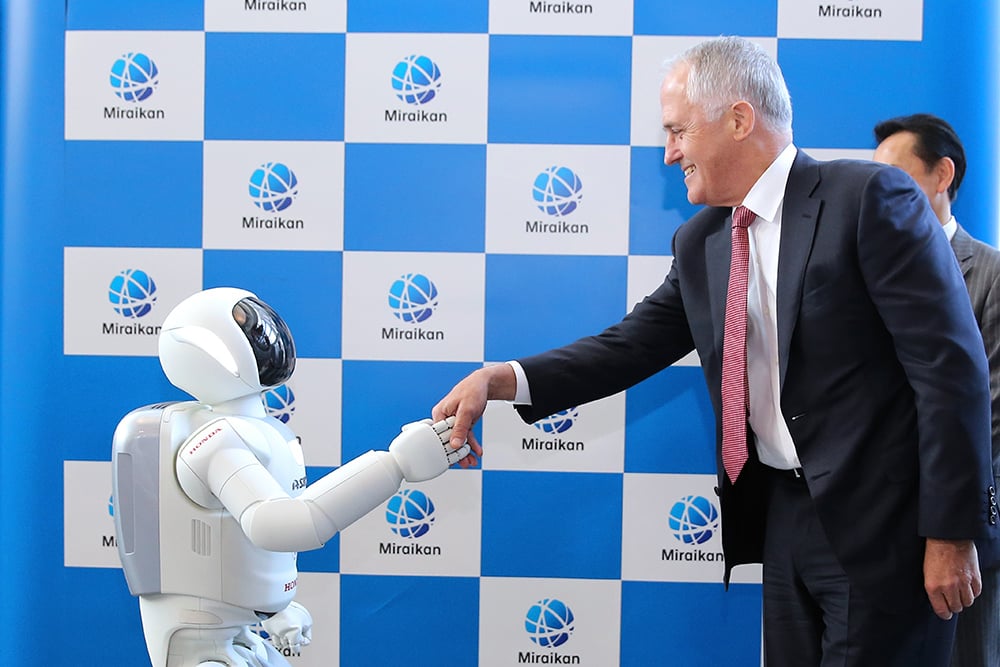 Prime Minister Malcolm Turnbull meets ASIMO at Miraikan in December 2015
Australia and Japan enjoy a wide range of links at the school, university, science agency and company levels. The Australian Embassy Tokyo's active science diplomacy strategy is designed to further strengthen high-quality collaboration with Japanese researchers and industry, and raise awareness of the quality of Australian research and innovation.
Recent activities have included:
participation in the annual Science and Technology in Society (STS) Forum in Kyoto
supporting the Japan-Australia Emerging Research Leaders' Exchange Program (ERLEP) which builds collaborative networks between early-career researchers through bilateral exchange
a seminar and networking event in collaboration with the Japan Agency for Marine-Earth Science and Technology (JAMSTEC) focusing on robotics in marine science
the production of bilingual fact sheets, highlighting stories of Australia-Japan collaboration

Science diplomacy in focus: Women in Science
Australia and Japan are working together to overcome the cultural and organisational factors that discourage women from studying and working in the fields of science, technology, engineering, and mathematics (STEM). In support of these efforts and in celebration of International Women's Day 2016, the Australian Embassy hosted an event themed Women in Science on 3 March 2016.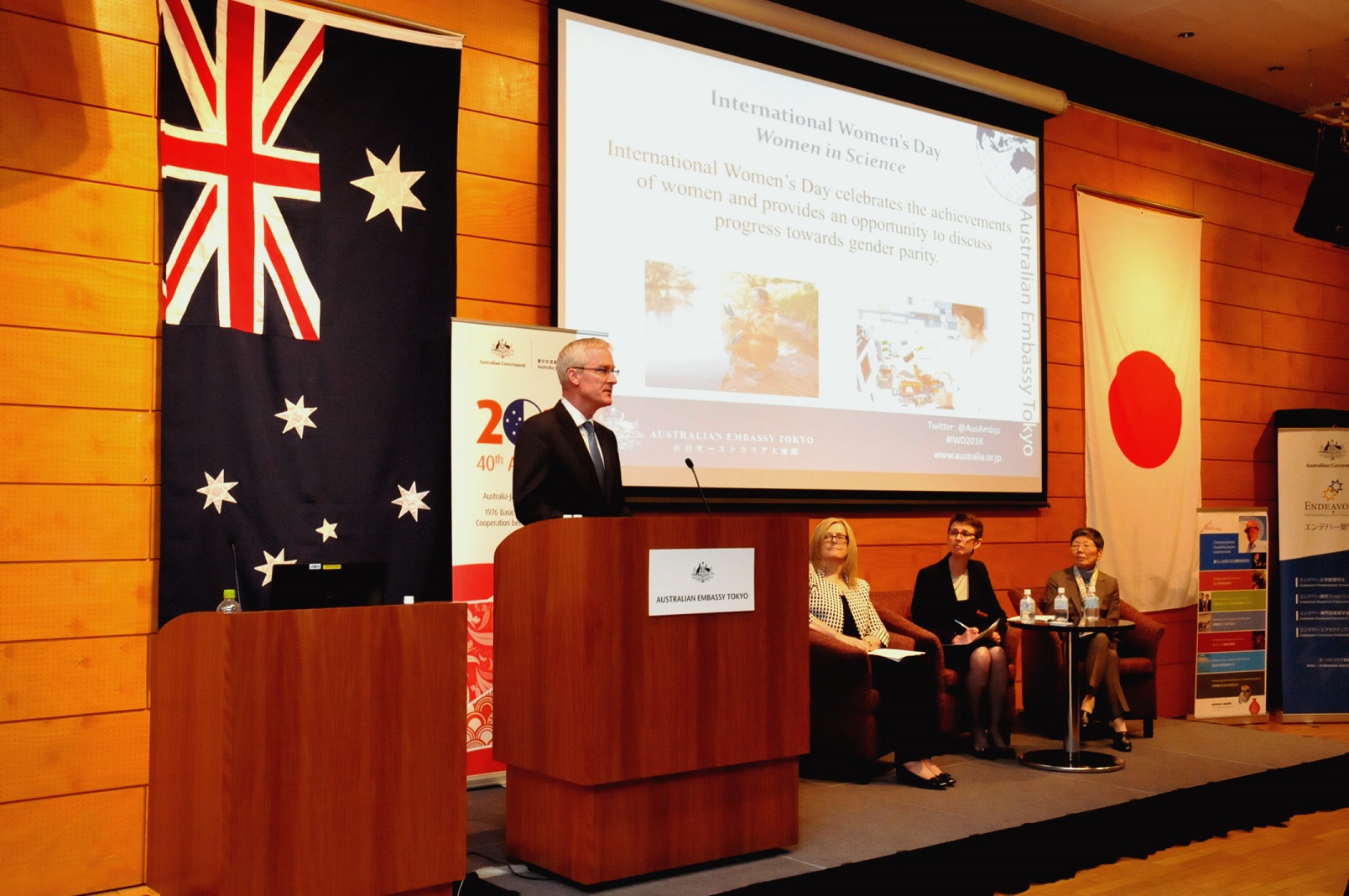 Ambassador Miller speaks at the 'Women in Science' event at the Embassy in March 2016.
Australia-Japan Foundation Board Member, Dr Bronwyn Evans moderated a panel discussion between Professor Caroline McMillen, Vice Chancellor of the University of Newcastle and member of the steering committee of the Science in Australia Gender Equity (SAGE) initiative, and Dr Yuko Harayama, Executive Member of the Japanese Government's Cabinet Council for Science, Technology and Innovation.
It was a wonderful opportunity to celebrate the achievements of women, examine challenges and discuss the way forward towards gender parity in both Australia and Japan.
For more information on gender equity in STEM fields in Australia, please visit the SAGE website.