Raquel Ormella at TWS creator in residence
5 January 2010 - 23 May 2010

From January to March 2010, Sydney-based visual artist Raquel Ormella will be the creator in residence as part of the International Creator Residency Program at Tokyo Wonder Site.
Curious about Japanese constructions of 'nature' and human-animal relations in urban Japanese environments, Ormella proposes to work with environmental and urban organisations which care for birds.
She plans to visit and document bird-watching sites (Oi Yacho Koen, Takao-san) with an aim to capture the complexity of human-animal relationships. She plans to also work in the same way with similar Australian organisations.
AIAV Artist in Residence Program "trans_2009-2010"
10 January 2010 - 20 March 2010

For 70 days from 10 January to 20 March 2010, Australian visual artists Claire Healy and Sean Corderio will be collaborating with Argentine dancer Valeria Roxana Primost and Japanese visual artist Takehito Shiina during the "AIAV (Akiyoshidai International Art Village) trans_2009-2010" residency program.
Currently based in Berlin and Sydney, Healy and Corderio engage in a variety of projects in different cities and countries. They began collaborating in 2001 at COFA, University of New South Wales. They make dynamic installations in which they explore issues of architecture, nomadism and space invasion. They co-represented Australia at the 53rd Venice Biennale, 2009, and in Akiyoshidai, plan to use Lego bricks to reconstruct the Space Shuttle Challenger disaster in 1986.
Valeria Roxana Primost and Takehito Shiina will work with the duo during the time to make work which addresses similar themes of nomadism and architecture. They will also give workshops, school visits, open studio and an exhibition of the works produced over the time.
Louis Nowra's "The Woman with Dog's Eyes" by Rakutendan
15 January 2010 - 20 January 2010
The indefatigable Rakutendan will produce another of Australia's finest plays. After having produced several of Louis Nowra's plays; "Golden Age", "Radiance", "Crow", Rakutendan is back with "The Woman with Dog's Eyes" as the first in Nowra's 'The Boyce Trilogy'.
Story
Exploring the struggles for love, power and happiness within a family, 'The Woman with Dog's Eyes' is based around the 1949 song Some Enchanted Evening. Nowra sets the play in an old hotel in the Blue Mountains, inspired by old Colonial hotels such as the Hydro-Majestic, in which he introduces the Boyce family as they gather to celebrate the parents' 40th wedding anniversary. Tracing a story which is familiar to many of Sydney's families, Malcolm, of working-class origins, has until now run a successful real estate company. But due to cash-flow problems and community resistance he faces a crisis in his latest high-class development 'Hesperus Park'. Exploring universal themes of family, love and disappointment, firecrackers and a swing band, Nowra exposes the problems of each family member as the play develops.
Australian Chamber Orchestra (ACO) at Niseko Winter Music Festival
15-17 January 2010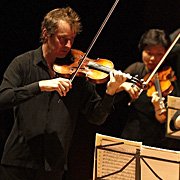 The famous Niseko ski resort in Hokkaido will be hosting a new winter music festival initiated by the Australian Chamber Orchestra (ACO).
Every night from the 15 -17 January, 2010 there will be concerts in halls adjacent to the ski fields. Richard Tognetti and the members of the ACO will play a popular classical program of The Four Seasons by Vivaldi, Mozart's Violin Concerto No. 4, and some tango pieces by Astor Piazzola. A local taiko drumming group, the Kutchan Taiko
New Year Concert: Jazz Pianist/Composer Mike Nock
16 January 2010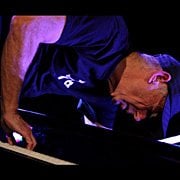 Start your year afresh with Australia's legendary jazz pianist/composer Mike Nock. One of the Sydney Morning Herald Magazine's top 100 most influential people in 2009, and inducted into the Australian Jazz Hall of Fame at the 2009 Bell Awards, Mike Nock has been at the forefront of Australian jazz since 1960. He was accorded the 2007 ARIA Award for CD "Duologue", the 2004 Bell Award for "Big Small Band Live!" and the New Zealand Order of Merit (ONZM) in 2003.
Nock will perform a special New Year concert of original and jazz standards together with Ko Omura (drums) and Takashi Sugawa (bass).
Born in Tokyo in 1981, Ko Omura grew up in both the US and Australia, graduating from the Sydney Conservatorium of Music and relocating to Tokyo in 2006. He has since performed in the Tokyo Jazz Festival and Sapporo City International Jazz Festival.
Born in 1982 in Gunma, Takashi Sugawa won a scholarship to the Berklee School of Music (US) after which he re-established himself in Tokyo.
International symposium: 'A museum for traditional culture'
24 January 2010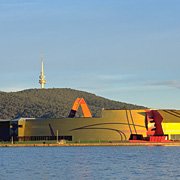 Based on case studies from museums in Australia, UK and Singapore, a symposium for discussions around the themes of culture and tradition and its significance in museums will be held on Sunday 24 January 2010.
Museums have been the custodians of cultural properties, which aid the dissemination of traditional culture. As the distance between the modern and the traditional cultures grows, that which distinguishes cultures from one another becomes a topical point for discussion. While the importance of preserving traditional culture for future generations is indisputable, nations are in constant interaction with each other in the global market, ever keen to develop their cultures towards the future. What role can museums play in this dialogue for the transmission of traditional cultures?
One of the invited panelists will be David Arnold, Education Manager for the National Museum of Australia, discussing the notion of the 'Talk-back Classroom'.
Sophie Kahn at the 13th Japan Media Arts Festival
3 -14 February 2010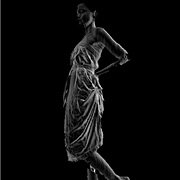 Body/Traces is a single-channel video installation by Sophie Kahn (artist), Lisa Parra (choreographer) and Sawako Kato (sound) exhibiting at the Japan Media Arts Festival. Specialising in art, media and entertainment, this will be the 13th annual exhibition of new media art from around the world.
Selected by the Jury prize, the Australian artists led by Sophie Kahn present Body/Traces in which images of the body have been taken from an interactive relationship with three-dimensional media (7,000 stills of the moving body with a laser scanner). Exploring the dialogue between movement language and perception, and querying the movement that exists within the stillness of the image, and the stillness existing within movement, the work seeks to reflect an illuminating event.
Jonathan Nix at the 2nd Yebisu International Festival for Art & Alternative Visions
19 -28 February 2010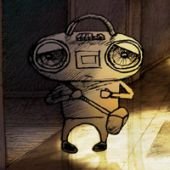 The 2nd Yebisu International Festival for Art & Alternative Visions premised on the theme of Past/ Present/ Future has invited the Australian award winning animator Jonathan Nix to show his popular innovative animation "Hello" (2003) in the World Short Film Image Category of the programme.
Jeff Lang Japan Tour 2010
24-25 February 2010
Having debuted in Tokyo in 2008, the masterful and haunting Australian slide-improviser Jeff Lang is returning to Japan to play Tokyo and Osaka in February 2010.
Jeff Lang is a singer-songwriter who has built a serious reputation as a startlingly original performer, who improvises on slide guitar. Influenced by the great blues – country guitar and lyrics of Skip James, Blind Willie Johnson, Jimi Hendrix, Ry Cooder, Bob Dylan and Richard Thompson, his poetic songwriting has inspired the world over.
video exchange program 'who you know? who knows you?'
27 February-20 March 2010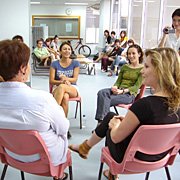 A Joshibi University of Art and Design exhibition will show the outcomes from dialogue between Australian, Japanese and Portuguese students with video as the medium of exchange. Entitled "who you know? what knows you?", the project examines the perceptions of video material from one another's countries. In light of the obvious difficulties presented by emergent misunderstandings and stereotypes, the students have attempted to create a model of mutual sharing.
Rather than assuming or attempting to achieve a total understanding of one another, the group have begun from the starting point of acknowledging the difficulties of understanding. They take inspiration from the writings of Edouard Glissant, who, in response to the globalised world, celebrates opacity, the preservation of which preserves diversity. By releasing themselves from the implied obligation to understand, and the fear of misunderstanding each other, they regard the 'video exchange project' as a shared agreement to coexist within a diverse opaque space.
'By Example: Contemporary Australian Jewellery'
13-28 March 2010
Based on the principle of 'masters and protégés', fourteen Australian jewellery practitioners together with two emerging artists of their choice, have been chosen for their significant contribution to the form to participate in the exhibition.
Each contributing two key works, the invitees include: Nicholas Bastin, Roseanne Bartly, Susan Cohn, Mari Funaki, Karin Findeis, Catherine Harrington, Marian Hosking, Bridie Lander, Sue Lorraine, Leslie Matthews, Sally Marsland, Carlier Makigawa, Gilbert Riedelbauch and Margaret West.

Daniel Sumegi in Wagner's "Götterdämmerung" at the New National Theatre
18-30 March 2010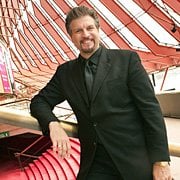 The Australian opera star Daniel Sumegi will be returning to Tokyo for the fourth time, having previously sung in Aida at the Tokyo Dome, La Boheme with the San Francisco Opera Center and Tosca and Otello with the Washington National Opera.
This time Sumegi will be performing in "Götterdämmerung" by Richard Wagner conducted by Dan Ettinger. Premiered at the New National Theatre in March 2004, the production of the two operas forming the second half of Wagner's 'Der Ring des Nibelungen' will be performed with an ensemble of world-famous performers.
"Ingalimpa Tjuntu" and The Motika Project - Contemporary Fine Aboriginal Art Exhibition
23 April 2010 - 11 May 2010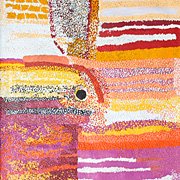 Two arts projects coming from Aboriginal Australia will be exhibiting in Tokyo, hosted by Audi Japan and ReDot Fine Art Gallery. One will be exhibiting over fifty Aboriginal paintings concerning Aboriginal law, culture and land. It is based on the concept of "Ingalimpa Tjuntu" (Singing Songs), which captures the traditional Aboriginal inherited practice of 'singing the country to find the way'. A collection of works from 19 Warlayirti artists, including six who are traveling to Japan to attend the show, including Helicopter Tjungurrayi, Graham Gordon, Howard McLarty, Ronald Mosquito, Imelda Gugaman and Miriam Baadjo.
The exhibition overlaps with the 'Motika Project', which comprises a series of workshops, photography and a film produced by the Warlayirti Artists (Balgo) with the communities of Balgo, Mulan and Billiluna. Based on the profound affect of the motika (motor car) on Aboriginal life in remote communities, the exhibition describes a transformation of mobility for Aboriginal communities across Australia. Both highly prized and one of the highest causes of death and incarceration of indigenous Australians, the motika both contributes to and destroys Aboriginal life. Participants have received developmental assistance and mentoring from filmmakers, photographers and the Warlayirti Artists Art Centre Manager. They share their experiences in remote indigenous Australia.
Minoru Hokari photo exhibition 'The Call of the Living Earth: Australian Aboriginal peoples and Radical Oral History'
29 April-20 June 2010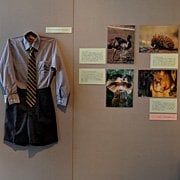 A photography exhibition called 'The Call of the Living Earth' currently being held at the Hokkaido Museum of Northern Peoples focuses on the dry, reddish-brown earth and landscapes of northern Australia visited by the late Dr. Minoru Hokari while doing research into Aboriginal Australian oral histories.
Dr. Hokari, also the author of "Radical Oral History: experiencing Aboriginal history" (Ochanomizu Press, 2004, Japanese), has attempted to respect, preserve and prioritize the narratives of and by Aboriginal people through his photographs and his monograph. He is remembered with the Minoru Hokari Memorial Scholarship at the Australian National University, where Dr. Hokari completed his PhD. The exhibition images are accompanied by Hokari's own captions, in retracing his own journey through Aboriginal communities in northern Australia.
David Milroy's "Windmill Baby" by Rakutendan
8 May 2010 - 6 June 2010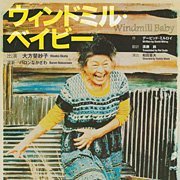 Theatre Rakutendan continues its focus on Australian and Aboriginal theatre. Due to the enormous popularity David Milroy's "Windmill Baby" received in 2008, Rakutendan will re-mount 'Windmill Baby' in Tokyo, Iwaki and Sendai. The 2010 season will again be performed solo by the great veteran actress Ogata Hisako.
Based on the people, local stories, legends and oral histories from the Pilbara and Kimberley region, since its premiere in Perth 2005, "Windmill Baby" has journeyed on five international tours and readings in Paris, Canada, England, India and Northern Ireland, as well as extensively in Australia.
Synopsis
MayMay Starr, an old Aboriginal woman returns to an abandoned cattle station in the surreal Kimberley landscape of azure skies and red dirt, to fulfill a promise under the shadow of the Windmill. In the poetic 'campfire storyteller' tradition with musical backing, the play exposes the harsh relationships of the white Boss and Missus and Aboriginal workers. MayMay's painful recollections of motherhood, loss and death in the context of colonial violence her relationship to the earth spirits helps her come to terms with the past.
Working as a servant on an outback homestead, MayMay struggles with Sally the cook for the hand of the drover Mal Bourne. When MayMay gets pregnant, her husband gives her a ruby ring and says if her baby is a girl then she would be called Ruby. But when she is forced to work too hard by her white boss, MayMay loses her baby. Sally shows her attraction for Wun-Man the disabled gardener, but Wun-Man likes the white man's wife. The white boss beats his wife and the servants when he gets drunk. When his wife accidentally falls pregnant, is just the beginning of MayMay's entanglements...
David Milroy
David Milroy (b. Perth, 1957; from the Palku, Pilbara) is an Aboriginal playwright, director and dramaturg. He has won several awards, and has toured extensively. He worked at Dumbartung Aboriginal Artist Advisory where he established the prisoners art fund with Geoff Narkle. He tutored at ABmusic and composed the film music for "Blackfellas","Exile" and "The Kingdom" and for ABC National (Speaking-out). David was the Artistic Director of Yirra Yaakin Noongar Theatre (until 2003).
His writing and directing credits include "King Hit", "Runumuk", "No Excuse", "Muttacar, Sorry Business", "Djildjit", "In the Nyitting Time" and "Whaloo is that you?" and Karl Karninyi (Welcome to My Fire). He directed "No Shame" (Mainstreet Theatre) and Polyglot Theatre in Melbourne.
His musical direction includes "Sistergirl" and "Dead Heart", "Wild Cat Falling", "Amys Monster", and "Land of the little kings". His work with Yirra Yarkin includes "Aliwa", "Solid", "Alice", Sally Morgan's "Cruel Wild Woman" and Barking Gecko's "Our Own Worst Enemy".
Windmill Baby won the Patrick White Award (2003), WA Equity Award (2006), Deadly Award (2006), Kate Challis RAKA Award (2007).
While working beyond 'indigenous' categories he received an Australia Council Fellowship to make "Kaltja" as based on research of Campfire theatre and Indigenous puppetry from the Pilbara of Western Australia. "Windmill Baby" is part of the Aboriginal Contemporary Theatre Series, No.7.

Tanya Schultz solo exhibition 'A Handful of Sunshine'
12 May-24 June 2010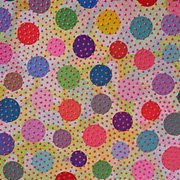 Following an Artsource residency in Tokyo in December-January 2010, the contemporary Australian artist Tanya Schultz will hold her solo exhibition of paintings and drawings in May-June 2010.
Having gleaned a variety of hyper-colourful packaging of consumables in the 'cute' aesthetic, in detailed kaleidoscopic paintings Schultz suggests the moment of joy in excessive and simultaneous consumption of the material and the ideal.
Based on video games, folk tales, creation stories, children's literature, and ancient cosmologies, in Pip & Pop, a collaborative duo with Nicole Andrijevic, Schultz uses everyday materials to transfigure spaces into immersive psychedelic wonderlands. In A Handful of Sunshine, Schultz examines the theme of abundance in the relationship between adult and child in contemporary mass consumer culture.
Ko Omura Special Quintet
15 May 2010
On the 15 May, 2010 Ko Omora's jazz concert at the Shinjuku Pit Inn will feature some of Japan and Australia's finest young jazz musicians. Having spent many years collaborating in Australia with Australian musicians, Ko returned to Tokyo to continue international jazz collaborations at the top level.
With several international and national jazz events under their belts, alto saxophonist, Jeremy Rose and double bassist Alex Boneham will join the drummer/composer Ko Omura. They will be performing at one of Japan's most respected and sought after jazz clubs, the Shinjuku Pit Inn.
The OWL project Workshop 'What is your dream?'
22 May 2010
Danielle Wilde, an Australian artist and researcher into technology, will be holding two workshops on 22 May 2010 in Tokyo.
Currently a research fellow at the Ishikawa Komuro Laboratory Meta Perception Group at Tokyo University, and a PhD student at Monash University in Melbourne (Fine Art) and CSIRO (Materials Science and Engineering), Wilde asks the participants to make exploratory objects of their desires with simple materials: yarn, cardboard, plastic, fabric, paper. Materials and tools are provided. Additional recycled materials optional.
Exhibiting and performing her work in international contexts, and aiming to blur boundaries between performance, fine art, critical (technology) and interaction design, Wilde seeks to extend poetic and expressive potential by addressing the body's relation to satorial technologies. She aims to conceive of devices we cannot yet imagine we might be wearing. The Owl project is a collaboration with Kristina Andersen.
Benjamin Skepper solo live performance 'Parnassus'
30 May 2010
Benjamin Skepper presents a solo musical performance at the Scott Hall Church at Waseda Hoshien on Sunday 30 May 2010. Using a loop machine, he will perform original compositions live and improvised on harpsichord, cello, toy piano, music boxes, sewing machine.
Australia-Japan Media Art Meeting
5-6 June 2010
A group of leading Australian and Japanese New Media artists will converge at the Nagoya Art Museum on the 5 June 2010 and in Osaka at the National Art Museum on 6 June 2010. Furthering the well established Australia-Japan relationship in New Media Art, these artists will discuss Australian new media work, bio-art, bilateral collaborative potential, as well as giving workshops and visiting lectures.
The visiting contingent are Alessio Cavallero (ACMI), Dr. Greg More (Monash University), Dr. Troy Innocent (RMIT) and Dr. Mari Velonaki (RMIT). The host Japanese artists are Kiyofumi Motoyama, Dr. Akihiro Kubota, Joe Takeba, Hisako Hara and Atsuhiro Sekiguchi.


Short Shorts Film Festival & Asia 2010
11-20 June 2010
This year marks the 12th annual Short Shorts Film Festival & Asia, running from Thursday 11 to Sunday 20 June 2010. Four Australian films will be part of the 100 films shown selected from a worldwide call in the Festival, as part of the International Program and the STOP! Global Warming Competition. The Australian entries include "Boxer" by Michael Latham, "Calypso" by Jack Perry, "Cupid" by Melvin Motalban, and "The Bedwarmers" by Pascal Mercay. Screenings will be held at the Omotesando Hills and Laforet Harajuku in Tokyo and some Australian filmmakers will be available for the Q&A sessions.
"Boxer"
Michael Latham/11:52/Comedy/2009
With the speed and grace of a middle aged man, Gary navigates his golf buggy through a giant warehouse, only to encounter a defiantly misplaced box. Gary's desire to organize and neatly shelve the box leads him to discover that there is something in the box... and it's alive.
"Calypso"
Jack Perry/9:20/Animation/2009
An abandoned terminally ill old man has been left to be "cared" for by machines, a circle of mechanized doctors and nurses. "Calypso" is the story of his escape from this cold, miserable, prolonged and lonely suffering.
"Cupid"
Melvin Motalban/14:30/Comedy/2009
Since ancient times, Cupid has ignited the spark of love for humankind. Until one fateful night when Cupid decides to help out a hapless Roman, he unwittingly falls prey to his own magic and is locked into a desperate contest for the heart of the beautiful singer Lauren.
"The Bedwarmers"
Pascal Mercay/7:00/Comedy, Mockumentary/2009
In the near future, being eco, green, and 100% carbon neutral is a must. Central heaters are turned off and electric blankets are a definite no-no. A select group of men and women with unusually high body temperatures have become super heroes, they are... THE BEDWARMERS.
Dean Bowen's 'Happy Birds'
25 June 2010 -18 July 2010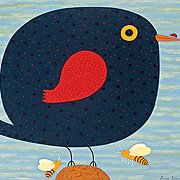 Dean Bowen is exhibiting at Galerie Miyawaki, Kyoto with his new project in June-July 2010. Bowen continues his collaboration with Galerie Miyawaki in launching "Argy Bargy", a publication of popular illustrations.
In his dream-like humorous imaginary world, the happy world of Bowen's natural sensorium flows in abundant life. In this particular exhibition, Bowen focuses on his main motif of birds, in over 40 paintings in several styles - oil, monotype, watercolour - and in an animation produced with Ayumi Sasaki. His birds navigate the mysterious worlds of space, the universe, the cosmos, as well as the more familiar earthen locales in a defamiliarising yet evocative mysterium.
Pacific Music Festival 2010
8 July-5 August 2010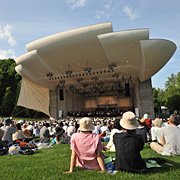 With the aim of producing world-class orchestral players, the Pacific Music Festival will return to Japan 21st time this year with events centered in Sapporo and around Hokkaido, in Tokyo and Osaka. Three young Australian musicians will join the Pacific Music Festival Orchestra.
Founded by acclaimed composer-conductor Leonard Bernstein in 1990, the PMF is an international educational music festival founded with the purpose of contributing to world peace through music education, sharing inspiration with people around the world and educating those who will pass on inspiration to future generations.
The invited Australian musicians who will perform in the PMF Orchestra will be:
Jenny Khafagi, violin
Benjamin Hanlon, double-bass
Sayoko Mundy, violin
An Australian Journey in Setouchi 2010
19 July-31 October 2010
Handmade Picture Books exhibition in Oshima
22 July-21 August 2010
The Oshima Museum of Picture Books is holding an exhibition of handmade picture books from the 'Oshima International Handmade Picture Book Contest 2010' until 21 August.
Included among the 354 entries, is the handmade pop-up book 'Gaijin Holiday' by Australian author/illustrator Tony Flowers has been awarded the 'Iguchi-Bunshu Prize'.
The award ceremony will be held on 21 August at 2:00 p.m.
'Gaijin Holiday' by Tony Flowers
The story of this original handmade pop-up book follows the imaginative view of the author's children, Joshua (7) and Tallis (4) as they travel around Japan. Tony Flowers' story is based on travels last year with his family in Japan.
SKIP CITY International D-Cinema Festival 2010
23 July-1 August 2010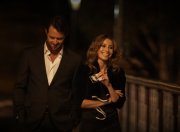 The SKIP CITY International D-Cinema Festival began in 2004 aiming to discover new talent in the field of digital cinema field. This year the festival had its largest number of entries, coming from 85 nations and territories. 13 full lengths and 10 short films have been nominated among the 810 entries. From Australia, "Centre Place" has been nominated in the full-length movie category. It's a romantic comedy, centering around Lizzie's life in Melborne, Australia. The film's director, Ben Shackleford is planning to come to Japan for the festival.
"Centre Place" (2009)
"Centre Place" is a romantic comedy about a young woman and her journey to rebuild her life and recapture her dreams. Lizzie works at a boutique called Centre Place. When her boyfriend dumps her on the eve of their departure for Paris, her life goes into a tailspin. Her estranged father suddenly shows up, and her old boyfriend reenters her life as she learns to discover herself in order to find love she's looking for.
Ben Shackleford began his film and television career in his late teens by creating the cable television program 'The Director's Chair'. After that, he has produced television shows through companies such as Whyte House Productions, Lifestyle Media, Channel Nine. He wrote and directed the short film "eleVATE", which was well-received in international film festivals. "Centre Place" is his first full-length film.
Dream Cup Solar Car Race Suzuka 2010
31 July-1 August 2010
The Dream Cup Solar Race Suzuka 2010, sponsored by Honda, is the world's greatest of all the solar car races authorised by Federation Internationale de l'Automobile (FIA). This year, 82 teams will be participating, including teams from Australia and the Netherlands. Melbourne, Australia's Aurora Vehicle Association team is coming to win but will face stiff competition.
Exhibition 'Double Image - a fusion of two cultures'
1-31 August 2010
Maude Bath, an Australian textile artist, lived in the Australia House and held a series of felting workshops with the Urada community. The individual pieces that have been made during the workshops have been joined together to create a group of
shoji
screen panels for the exhibition contrasting the natural beauty of the Urada region with the brilliant colours of the Australian outback.

JAAM Project: Japan Australia Art Musings
9 -31 August 2010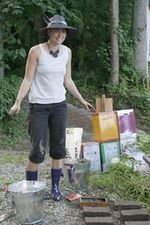 Six young art students from the University of Newcastle in Australia and Tama Art University in Japan are living and working together in the Australia House. The artworks that will result from this project are sure to provide a fascinating insight into both the similarities and the differences between the participants and their respective cultures.
Australia House
The Australia House in Echigo-Tsumari region is a base for cultural exchange between Australia and Japan and provides opportunities for collaboration between Australian and Japanese artists and communties.
Artists
The University of Newcastle: Fiona Lee, Nerida Ackland, Mandy Francis
Tama Art University: Saeko Shimojo, Keiichi Chigasaki, Hitomi Fukui
Aichi Triennale 2010
21 August-31 October 2010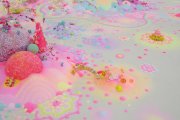 Australian artists are showing very interesting works at the Aichi Triennale.

Pip & Pop (Tanya Schultz and Nicole Andrijevic) draw upon a rich variety of imaginary worlds, through Japanese creation myths, Ainu folk tales, children's stories, video games, cinema, and ancient cosmologies of spiritual traditions. Using an eclectic mix of colourful materials such as sugar, wax, sweets, origami, modelling compounds and found objects, they have transformed the gallery space into a temporary fantastical terrain.
Lauren Berkowitz's work is an installation using locally produced foods such as grains and seeds in Aichi and was born from communication with local residents.
Raquel Ormella is showing three videos depicting the relationship between human beings and wild birds in urban landscapes in Japan.
The Reconstruction Project: Love in Tokyo
21 -29 August 2010
The Australian artist Dimple addresses the issue of homing (the notion of belonging to a space) and displacement in an open studio exhibition at Youkobo Art Space. 'The Reconstruction Project' seeks to help define our understanding of contemporary Australian cultural identity though non-verbal means, through an installation of mini-vignettes of sound and moving images, to allow people from varying backgrounds to relate without a linguistic barrier.

When people are faced with the "foreignness" of a new country, it creates an opportunity for reflection, comparison, reconciliation and acceptance, but it can also throw them into a state of total dissonance. But what if the dissonance bears a greater burden than the acceptance?
'The Reconstruction Project' taps into the cultural identity debate, exploring the idea of belonging as many Australians and other new migrants face it. The project is not about showing a static view of cultural identity. It seeks to show the changing face of Australia and to show where it is heading. The project explores how people define themselves in cultural exchange with other countries as the world becomes more global and as people travel further and societies become more culturally diverse.
Japan Wildlife Film Festival in Yokohama
21 August 2010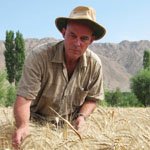 The Japan Wildlife Film Festival has held in Toyama since 1992. It's one of the biggest wildlife film festivals in Asia. Now JWFF is coming to Yokohama! Six nominated films from the ninth JWFF will be shown, including the Australian, award-winning film "Seed Hunter" produced by Sally Eagleton and 360 Degree Films.
"Seed Hunter"
"Seed Hunter" is a highly entertaining one-hour science adventure documentary film, following the efforts of an Australian scientist who is hoping to find a way to survive and to avoid a looming food crisis by searching for ancestor species of crops that are threatened by global warming and other problems. Australian producer Sally Inglewood has been active internationally as a producer of environmental and nature documntaries. The film has received many awards at international environmental and nature film festivals, including the 9th Japan Wildlife Film Festival.
The festival is supported by the Nature Film Network, and the films were subtitled by students at the ISS Institute, Yokohama.
Oron Catts Presentation
27 August 2010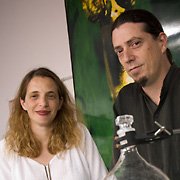 Oron Catts, the director of SymbioticA, an artistic laboratory within the School of Anatomy and Human Biology at the University of Western Australia, will make a presentation at the annual meeting of the Society for Science and Technology Studies held at the University of Tokyo. The title of the presentation is 'Shifting Perceptions of Life - What Artistic Research Do?' Catts' presentation addresses the power of art to change our perceptions of life and introduces some of SymbioticA's unique as case studies.
"Mao's Last Dancer"
28 August 2010-
The Australian Ballet is coming to Japan in October, but that won't be your only chance to see inspirational dance performances. "Mao's Last Dancer", an Australian film depicting the incredible life and journey of Li Cunxin, who became one of the world's top dancers after leaving China for the U.S. However Li's tremendous success came at a terrible personal price.
This powerful and visually stunning film is directed by Bruce Beresford ("Driving Miss Daisy") and produced by Jane Scott ("Shine") with a screenplay written by Jan Sardi ("Shine"). The Toronto Star praised the film for having "the most beautiful ballet scene ever."
The film showcases Chengwu Guo, who is a member of the Australian Ballet, as Li as a young adult. The dance scenes were developed with help from Graeme Murphy and Janet Verndon, who have worked on numerous productions for the Australian Ballet and the Sydney Dance Company. The dance scenes include dancers from both companies.
The film became a hit when it was released in Australia in 2009 and received the Audience Award at the San Paulo Film Festival. "Mao's Last Dancer" will be released in Japan from 28 August.
Children's Book "The Quicksand Pony"published in Japan
30 August 2010-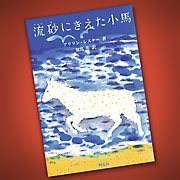 Australian author Alison Lester's first children's novel "The Quicksand Pony", has been translated and published in Japanese. Two of Lester's other works, "Clive Eats Alligators" and "Tessa Snaps Snakes", have already been translated and published in Japanese.
'The Quicksand Pony' is about a story of a pony and a girl and her family who run dairy farm in the wild nature in Australia. One day, Biddy who aspires to be a great cowgirl goes out for a cattle drive, but along the way, her pony gets trapped in quicksand....
This work of fiction is based on real stories the author encountered while growing up on a dairy farm in Willson, at the far south end of Australia. Read this book and enjoy a virtual trip to this part of Australia.
Australian Jazz Wave 2010
2-6 September 2010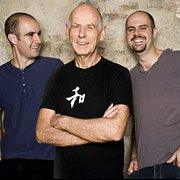 Musicians representing Australia's contemporary jazz scene are coming to "Tokyo Jazz 2010", the biggest Jazz Festival in Japan, this year again . There will be two live stages, featuring "Mike Nock Trio" and The Mike Nock "Tokyo" BigSmallBand that includes Matthew Ottignon (saxophone & flute), Phil Slater (trumpet), Eijiro Nakagawa (trombone) and Ken Ohta (saxophone) on 2 and 4 September. 30 pairs of tickets (60 tickets) will be available for the special live TOKYO JAZZ PREMIERE CLUB "Australian Jazz Wave 2010" on 2 September. After performing at the Tokyo Jazz 2010, Mike Nock Trio will also play at the Shinjuku Pit Inn on 6 September. Come and enjoy smooth late-summer tones of Australian jazz!

Minoru Hokari Photo Exhibition 'The Call of the Living Earth: Australian Aboriginal peoples and Radical Oral History' in Tokyo
6-12 September 2010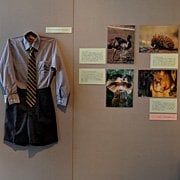 A photography exhibition called 'The Call of the Living Earth' will be held at the Ikebukuro campus of Rikkyo University. The exhibition focuses on the dry, reddish-brown earth and landscapes of northern Australia visited by the late Dr. Minoru Hokari while he was doing research into Aboriginal Australian oral histories.
Dr. Hokari, also the author of "Radical Oral History: Experiencing Aboriginal History" (Ochanomizu Press, 2004, Japanese), has attempted to respect, preserve and prioritize the narratives of Aboriginal people through his photographs and his monograph. Dr. Hokari is remembered with the Minoru Hokari Memorial Scholarship at the Australian National University, where he completed his PhD. The images in the exhibition are accompanied by Hokari's captions, retracing his journey through the Aboriginal communities in northern Australia.
Aichi International Women's Film Festival 2010
8-12 September 2010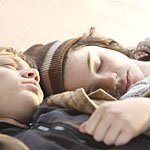 The Aichi International Women's Film Festival, launched in 1996, is the only international film festival held in the Chubu area of Japan. This year marks the festival's 15th year and features a record number of entries, the program includes screenings of 32 short and full-length films.
The schedule includes two screenings of "Blessed" from Australian director Ana Kokkinos.
The festival screens films that are mostly directed by women and supports the advancement of women in society by inviting world-famous female directors as well as up and coming female directors, and holding guest talks and symposium that provide participants with opportunities to exchange their views and ideas in order to promote the realisation of a gender-equal society.
"Blessed" (Australia, 2009/115 minutes, Director, Ana Kokkinos)
This heartbreaking tale of the love between mothers and their children is one of the finest achievements in Australian cinema. The flawless screenplay follows a number of characters through the course of a single day, deftly telling their stories from different points of view until viewers develop a full understanding of the day's events. The film is based on the Melbourne Green Room Award-winning play, "Who's Afraid of the Working Class?".
The film was edited by Jill Bilcock ("Elizabeth" and "Moulin Rouge") and beautifully shot by the award-winning cinematographer Geoff Burton.
Shellie Morris Concert
17-24 September 2010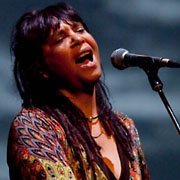 Shellie Morris, an Australian indigenous singer and songwriter is coming to Japan to speak and perform her music on four stages. The Australian newspaper described her as "an aboriginal chanteuse of rare seriousness and grace." Morris has performed everywhere from Australia's rural outback to London's Festival Hall, the Sydney Opera House and the Vancouver Olympics with great reviews. Morris will participate in '2010 Theater Camp In Nakatsugawa' on September 17 and 18, and she will talk and sing at the Repertory Theater KAZE in Tokyo on September 23. Morris will also participate in the 76th International Pen Congress Tokyo 2010 as a speaker, where she'll also sing for 20 minutes on September 24.
Troy Innocent at the Ogaki Biennale 2010 in Gifu
22-26 September 2010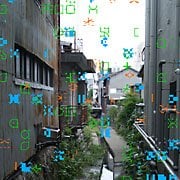 "noemaflux", a new augmented reality work by Troy Innocent will debut at the Ogaki Biennale in 2010. It explores new mappings of urban spaces via digital intervention encouraging other ways of being in the city. The work is the result of a residency at IAMAS (Institute of Advanced Media Arts and Sciences) in Ogaki, Gifu during September 2010. The IAMAS Artist in Residence program has invited 22 artists from 15 different countries to expand IAMAS's international connections and producing interesting media arts projects. "noemaflux" is developed in collaboration with Indae Hwang who is currently undertaking a PhD that explores the aesthetics of RF-ID and AR tags and the role of design in communicating their meaning. Troy Innocent and Indae Hwang are based in the Faculty of Art & Design at Monash University in Victoria.
Collection 2 at the National Museum of Art, Osaka
25 September-14 November 2010
The work of Emily Kame Kngwarreye is exhibited in the collection of the Museum's 200 recent acquisitions.
'love's body - art in the age of AIDS' photo Exhibition
2-5 December 2010
The exhibition deals with expression of AIDS and sexuality. From the late 1980s to early 1990s, AIDS became more than just an incurable disease that took the lives of numerous artists. It also provided photography and art with the opportunity to carry out a fundamental reassessment of social problems such as prejudice and discrimination. This exhibition presents 78 works from 8 artists that are powerful enough to have influenced aspects of art and photography while reappraising and redefining their meaning.

Australian William Yang's work consists of photographs of his ex-lover, Allan, whom he met again after an interval of three years and knew that Allan was HIV positive, it covers a period of one year and ten months, and each picture is combined with a handwritten note.
Benjamin Skepper to perform "Parnassus" on Noh Stage in Shibuya
2 October 2010
Benjamin Skepper, an Australian cello and harpsichord player, composer and producer who is based in Tokyo, will perform on the Noh stage next to the Konno Hachiman Shrine in Shibuya. Skepper will transform the Noh stage into a site-specific performance art space.
The Australian Ballet Japan Tour 2010
9-21 October 2010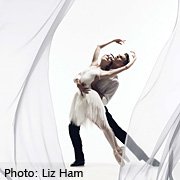 Following up from its successful tour to Japan 2007, the Australian Ballet Company will be presenting Tchaikovsky's "Swan Lake" and "The Nutcracker" ballets, choreographed by the spirited Australian choreographer Graeme Murphy. Following sell-out seasons around Australia and critical acclaim in Paris, London, Tokyo and Shanghai, Swan Lake returns to Japan in 2010 for shows in Tokyo and Nagoya.
Set on a sweltering Melbourne Christmas Eve in the late 1950s, "Nutcracker - The Story of Clara", retaining the svelte dancing and classic score, this production includes film collage and an innovative design. This will be the production's debut performance in Japan.
Founded in 1961, the diverse repertoire of the Australian Ballet covers the classical to the contemporary. In 2002, the new Artistic Director David McAllister, has established a progam under the motto 'Caring for tradition, daring to be different', and has made innovative works as the leading ballet company in Australia.

Takeshi Namba photo exhibition 'Panoramic Australia'
12 -22 October 2010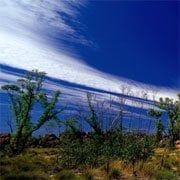 Japanese photographer Takeshi Namba has been taking pictures of unique Australian rock formations and landscapes since Since 1986. This photo exhibition is composed of panoramic photographs expressing the magnificent scale of nature in incredible detail. Some panoramic photographs were created digital age technique called "Stitched Panorama". Digital panoramas are created by shooting multiple overlapping images and then stitching them together in the computer.
Lecture on "body-worn technologies" by Danielle Wilde
23 October 2010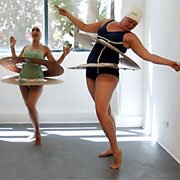 Australian Artist, Danielle Wilde will be speaking at Yamaguchi Center for Arts and Media about clothing and technology. Wilde is completing her PhD at Monash University in Fine Art, and at Australia's national scientific research organization, and currently undertaking her research at The University of Tokyo in the Ishikawa Komuro Laboratory's Meta Perception Group.
Wilde has been exploring body-worn and wearable technologies for more than a decade in different parts of the world. The focus of her work is to discover how technology might be paired with the body to create enjoyable and meaningful ways to engage our bodies and thereby transform our lives.
Apocalypse: From Dürer to Redon
23 October 2010-5 December 2010
The Apocalypse of St. John from the New Testament's Book of Revelations is a theme that has often been depicted in the history of European art. The public's image of this theme was perhaps most clearly defined by Albrecht Dürer (1471-1528), in his series of woodcut prints on the "Apocalypse" (1497-98/1511). The series includes some of the most famous woodcuts in the history of printmaking.
'Apocalypse: From Dürer to Redon' focuses on the iconographical history of the Apocalypse of St. John from the later middle ages to the 19th century, featuring Dürer's series of woodprints as well as pieces from the French artist Odilon Redon (1840-1916).
The woodprints from Dürer's Apocalypse series come mainly from the collection of National Gallery of Victoria, Melbourne. These prints are exceptionally well preserved. In this exhibition, people will not only be able to see the historical development of apocalyptic imagery, but they will also have a rare chance in Japan to see these treasures from NGV's amazing collection.
Albrecht Dürer Prints and Drawings: Religion / Portraits / Nature
26 October 2010-16 January 2011
This exhibition of Albrecht Dürer's work focuses on 105 prints from the collection of the National Gallery of Victoria, Melbourne, Australia, combined with 49 prints from the National Museum of Western Art collection and 3 drawings from the Kupferstichkabinett, Staatliche Museen zu Berlin, for a total of 157 pieces.
Tokyo Art Meeting 'Transformation'
29 October 2010-30 January 2011
Along the theme of metamorphosis and disguise, the visual art exhibition Transformation will include 21 artists from 15 countries, including those of Patricia Piccinini from Australia.
While bodily transformation has long been a pre-occupation of thinkers and artists in the east and west, it has taken place in accelerated and more profound ways in recent decades along with new technologies. Experiments with the non-human - animals, organic-design, robotics, cyborgs – are manifest in cosmetic surgery, biotechnology and organ transplantation, among other things. Contemporary art has taken a transdisciplinary tack in order to negotiate these changes. This exhibition is an example of such a process, in which Yuko Hasegawa, Curator at Museum of Contemporary Art Tokyo, collaborates with anthropologist and co-curator Nakazawa Shinichi in collecting from the recent historical and sub-cultural art archives examples of changing organic forms in the world.
Strange Fruit set to "Swoon!" at the Kochi Performing Arts Festival 2010
3 November 2010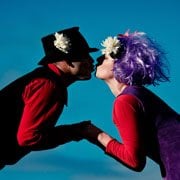 The Australian performance company "Strange Fruit" is coming to celebrate the 17th Anniversary of The Museum of Art, Kochi on November 3. Since forming in 1994, Strange Fruit has established itself as one of Australia's iconic outdoor theatre companies, having performed at over 450 international festivals and events, in over 50 countries, on 6 continents, and to well over 5 million people.
Strange Fruit's signature is its remarkable performance style fusing theatre, dance and circus together upon five-meter-long flexible poles. The performers bend and sway to impossible angles, creating a unique style of performance that is sure to delight audiences.
"Swoon!" tells the timeless romantic story of boy meets girl as a comic aerial spectacle. In this 20-minute performance, four daredevils dance and flirt their way through a lighthearted look at love, loss, jealousy and joy.
Set to an eclectic soundtrack ranging from Mozart to Swing, "Swoon!" is a lively and spirited treat for all ages. It premiered in Japan in 1999 winning Second Prize at the Shizuoka Daidogei World Cup that year and again in 2000.
Photo credit: Henrik Lindberg and Jay Lee
Fantasma: Kate Rohde's Chamber of Specimen
6 November-5 December 2010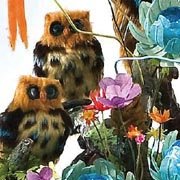 Australian artist Kate Rohde will have her first exhibition in Japan.
Rohde is a young contemporary artist creating animal-themed sculptures using fake fur, resin and flower paper. Her installations stir up visions of Baroque and Rococo-styled rooms. She participated in the Tokyo Wonder Site's residence program in 2008. In this exhibition, titled "Fantasma", Rohde creates a unique installation using the entire Koishikawa branch of the University Museum of the University Tokyo which houses the university's collection of scientific specimens.
When nature's artifacts collide with the latest in art, something "fantasmic" is born.
"When the Rain Stops Falling"
8 -28 November 2010
'When The Rain Stops Falling' is a unique piece of storytelling set against the vastness of the Australian landscape and a dramatically changing climate by Andrew Bovell.
Alice Springs in the year 2039. A fish falls from the sky and lands at the feet of Gabriel York. It still smells of the sea. It's been raining for days and Gabriel knows something is wrong. Eighty years earlier, his grandfather, Henry Law predicted that, in 2039, fish would fall from the sky heralding a great flood that would overcome the human race.
"When The Rain Stops Falling" takes place between the worlds of these two men – between a prediction in 1959 and its outcome eighty years later. Through four generations of interconnected stories, from the claustrophobia of a small 1950s London flat to the windswept coast of South Australia and into the heart of the Australian desert, 'When The Rain Stops Falling' follows the central journey of Gabriel Law as he retraces his father Henry's footsteps in an attempt to solve the mystery of his disappearance.
AUSSIE MUSIC FESTA
12 November 2010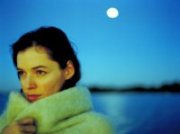 Aussie Music Festa featuring acclaimed Australian and Japanese jazz performers will be held in Osaka.
Accomplished Australian musician/vocalist/composer Lucinda Peters will be joined by one of Australia's best-known drummers, Simon Barker for a very special collaborative music event.
They will be joined on stage by acclaimed Japanese jazz pianist Makoto Kuriya and bassist, Nobumasa Uotani.
The festivities will also include an Australian product showcase and a superb selection of Australian wines on sale.
VIVA Festival
13-14 November 2010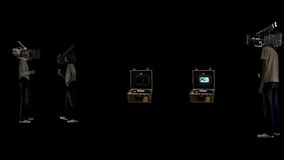 A Work by Australian video installation artist Sam Smith will be shown in 'VIVA Festival', a two-day video art festival to be held at the Hara Museum of Contemporary Art in Tokyo, featuring films by 34 artists from 16 countries. VIVA (Vital International VIdeo Art) Festival presents works of relatively short durations (the longest being around 15 minutes), and in sequential order. Audience can take advantage of this opportunity to enjoy video art under ideal viewing conditions.
Photo credit: Sam Smith, Passage, 2006 6'30"(video still), courtesy of the Artist
Sam Smith official website
Australian Week at the Tokyo Institute of Technology
15-20 November 2010
AUSTRALIAN WEEK at the Center for the Study of World Civilizations, Tokyo Institute of Technology. The week will be a celebration of contemporary Australian music, film, literature and drama, featuring artists and scholars from Australia.
Lecture 'Japanese Arts and Collections of the Art Gallery of South Australia'
18 November 2010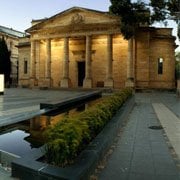 James Bennett, a curator of Asian Art, the Art Gallery of South Australia will talk about Japanese art and the collections of the Art Gallery of South Australia. Mr Bennett is planning an exhibition that will introduce Asian arts including works from Japan and is visiting museums in Japan. His past exhibitions include 'The Golden Journey: Japanese Art from Australian Collections' and 'Crescent Moon: Islamic Art & Civilisation in Southeast Asia'.
Art Gallery of South Australia
Sean Godsell in the TOTO GALLERY・MA 25th Anniversary Exhibition 'GLOBAL ENDS - towards the beginning'
19 November- 26 February 2011
TOTO GALLERY MA is holding its 25th anniversary commemorative exhibition 'GLOBAL ENDS - towards the beginning' featuring seven invited architectural practices active in seven different locales around the world. These architects' practices are based in local regions, cultures, and environments, and don't subscribe to homogeneous currents of globalism. In the exhibition, Sean Godsell, Melbourne based architect, shows the RMIT Design Hub, a project with a façade model and short movie. Other architects participating in the exhibition are Paulo David (Portugal), Kerry Hill (Singapore), Junya Ishigami (Japan), Tom Kundig (USA), Smiljan Radic (Chile) and RCR Adanda Pigem Vilalta Arquitectes (Spain).
Tokyo Downtown Cool Media Festival
26-28 November 2010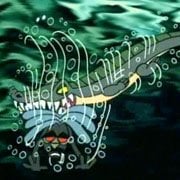 An animated film based on 40,000 year old Aboriginal stories, "The Dreaming Series" created by Aboriginal Nations Australia will be screened as part of the Tokyo Downtown Cool Media Festival.
The festival's aim is to promote production of "glocal" content (local resources packaged for a global market) through strengthening collaboration among prominent East Asian and Australian film-making universities such as Queensland University of Technology and young digital artists.
Aboriginal Nations Australia
Marcel Cousins, "CHOP-shop"
26 November 2010 - 10 December 2010
Marcel Cousins is a Tokyo-based artist working in painting, printmaking and installation. His artwork is both subversive and ironic. He operates within a technological matrix to visually explore what impact the saturation of technology (production, communication, etc.) has on us as individuals and as a society. In this sense, his work is addressing not only the evolving place of the machine in the period of late capitalism, but also co-opting the machine itself, using it to explore the kinds of narratives they enable us to produce about ourselves.
In 2002, Cousins graduated from Tokyo National University of Music and Fine Art with a Masters in printmaking. In 2003 he co-founded the Kings Artist Run Initiative. His work has been shown in Japan, Korea, Singapore, China, France, and Australia. He is currently working on a Doctorate of Philosophy (in Fine Art) at Tama Art University in Tokyo under the Japanese Ministry of Education's Scholarship.
David Brazier and Kelda Free at ARCUS
27 November-12 December 2010
Arcus Project, which started Artist in Residence program in 1996, invites artists to Japan every year from all over the world. This year, David Brazier and Kelda Free from Australia together with two artists from the US and Singapore came to Japan in September and have been staying three months researching their project.
Over 3 days, ARCUS is holding an "Open Studio" event for the resident artists to exhibit their works during stay in Moriya city. The "Open Studio" is an exhibition showing the ;activities of each artist, which includes photos, drawings and films. ARCUS is planning an event in which each artist talks with someone who they wish to meet (who could be artist, art director, singer, novelist)
Supported by: Asahi Beer Arts Foundation, Fukutake Foundation for the Promotion of Regional Culture
Art Talk by David Brazier + Kelda Free
3 December 2010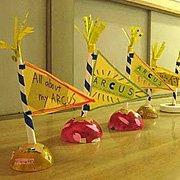 For this year's artist in residency program at the Arcus Project, Australian artists David Brazier and Kelda Free will be giving an artist talk at Urban Design Center Kashiwa-no-ha 'Art Talk Vol.1'. Along with the director of the school and two other resident artists, as part of this residency there will also be an open studio from 11-12 December which you can attend.
Anna Gleeson "Giant Earrings"
3 -12 December 2010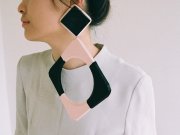 Store, a fashion label based in Nishi-Ogikubo, Tokyo will be holding an exhibition of works by artist Anna Gleeson, who were born in Australia and currently lives in Hong Kong. In conjunction with the exhibition, there will also be special talks featuring Anna and guest speakers.
Melbourne Grammar School Symphony Orchestra
12-15 December 2010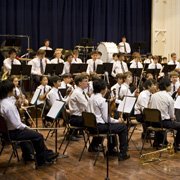 One of Australia's foremost school orchestras, the Melbourne Grammar School Symphony Orchestra will come to Japan for the first time. The first concert in Osaka will be held in conjunction with Soai University. The second concert in Gamagori will become part of the celebrations commemorating the 30th anniversary of the Sister-State relationship between Aichi Prefecture and the State of Victoria.The final concert in Tokyo has been organised by Waseda High School.
Works presented in these concerts include Dvorak Symphony No.9 ("New World"), Schubert Symphony No.8 ("Unfinished"), Saint-Saens Piano Concerto No.2, and Yuzo Toyama's "Rhapsody for Orchestra".