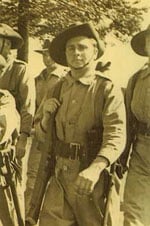 Ian Grant Hann was born at his father's country sheep and cattle property Albion Grove, near Moree, a railhead town in outback New South Wales. The Hann family is an established Australian family, well known for its many explorers with mountains, rivers, and roads named for them in Queensland and Western Australia.
Ian was what might be described as a typical country farm boy, very good at riding, animal husbandry and farming. A good football player, a better cricket player and very good at rounders, Ian was fit and strong. Throughout our childhood, Ian was protective of me, his younger brother.
We were schooled on our grandfather's property with tutors and governesses employed to school the Hann children. As boys, we used to spend entire days exploring the local hills and creeks, catching yabbies. One of our favourite past-times was rabbit shooting, and here too Ian coached me in the art. That said, we were brought up to be very good naturists, and never shot any animals other than rabbits. We raised birds from eggs, and one of our favourite past-times was collecting emu eggs when they were in season: Emu-egg omelettes were a particular favourite. We kept pet emus, kangaroos, lambs of course, guinea pigs and lots of birds, as well as jackasses and gallahs. We also had pet ferrets, but if we didn't take care of them they used to disappear.
When the Second World War came, I went away to study journalism, whilst my brother remained on the family property. Ian soon joined the Second AIF, however, training at Kapooka and Albury Wodonga as well as Yepoon and Indroopilly. Ian was allotted to the 2nd/30th Battalion, which had a regimental association with the Black Watch Regiment. The battalion saw service in Malaya and Singapore. After being taken into captivity by the Imperial Japanese Army, Ian Hann managed to escape once with assistance from some local Malay women who disguised him in women's clothes. Unfortunately Ian was re-captured, and being a big strong man was selected for work on the Thai-Burma rail project. Berri-berri, tropical ulcers and malnutrition took their toll, although he was deemed fit enough for transportation to Japan to work in the coal mines.
Eventually, Ian succumbed to sickness brought upon him by the harsh conditions of the camps, and despite being admitted to a hospital near Ueno, he did not survive and died in Japan. His remains were interred in Hodogaya.
(Australia War Section, Plot A, Row B)
As described by his younger brother, Colin Hann, himself a member of the AIF and later stationed in Japan with British Commonwealth Forces Korea. Mr Colin Hann visited his brother's resting place for the last time in June 2001.