The full story of my grandfather's capture by the Japanese Forces and death in a POW camp in Japan only came to light after I moved to my wife's hometown in Tokyo in 1991.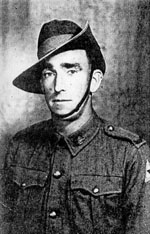 My grandmother in Albany, Western Australia never really talked about what happened to him. From what I've been able to learn so far, he enlisted in the 8th Division's 2/4th Machine Gun Battalion and trained in WA until they were shipped out to Singapore in January 1942 to assist Britain in facing the advancing Japanese Army.
Japan had already captured Malaya when the Australian troop ship arrived in Singapore, and my grandfather was involved in three weeks of battle for the island before becoming a POW after the British surrender. He was supposedly imprisoned at Changi for about a year and a half before being transported to Japan on a 23-day voyage on one of their 'hellships' This was with a mixed group of Australians and British labelled as 'J Force'.
After landing in Moji port in Kyushu in early June 1943, 250 of his group were taken by train to Kobe where they were kept in a POW camp called 'Kobe House'. The work that they were made to do was mainly connected with the nearby dockyards, loading and unloading ships.
My grandfather didn't survive the first winter and died on 26th November 1943 from complications of Beriberi, an easily treatable disease, however prisoners weren't permitted access to readily available medicines. Harry was 35.
His ashes were kept, along with other POWs' remains, by a kind priest at a temple in Osaka called Juganji. This temple was moved to the outskirts of the city after the war but I managed to locate it during my first visit to Japan in 1986.
I later learnt that my grandfather's official grave was at Hodogaya in Yokohama, and I first visited the site with my mother when she came to Japan in 1994. She never really knew her father as he had left for the war when she was only a baby.
Since that time I have made a point of coming to this serene cemetery every year to pay my respects to the grandfather I never knew, and also to all of the fallen fellow diggers commemorated around him.
(Australian War Section, Plot B, Row B)
Written by Mr Kevin Dempster, grandson of Harry Tysoe