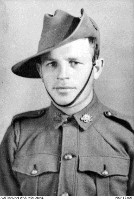 Jack Eddison was born in Southampton, England, on 30 March 1914, but later moved to Australia. His father, Walter Eddison, had served in the First World War as an officer in the First Australian Imperial Force (AIF). After the war, Walter was allocated a soldier settlement block in the Woden Valley, Canberra, which became the family property, Yamba. Jack attended the Canberra Grammar School, together with his older brother Tom, and younger brother Keith, and later joined the local 7th Light Horse Regiment.
With the outbreak of the Second World War, Tom and Keith were already in uniform when Jack enlisted in the Second AIF in July 1940. On hearing of Jack's enlistment, Tom wrote to his mother: "So Jack has joined up too...! Good show — but I still think he should have stayed to help Dad. Two in the service out of a family is enough when there is a place to be run".
Assigned to the 2/20th Battalion, Jack was sent to Singapore in January 1941. After the fall of Singapore in February 1942, Jack was sent to the Naoetsu (4B) prisoner-of-war camp in Japan. On 30 May 1943 he wrote to his mother: "Dear Mum. Hope you and family are in the pink. You must be all pretty busy. Hope there's a good lambing this season. Hope you're not worrying about me, as I am fit and well. Give my regards to all at Eucumbene. Love, Jack." Jack died of pneumonia eight days later
It was not until after the war that Jack's death was confirmed, and his family knew that they had lost all three sons. Tom had been killed when his Wellington bomber was shot down over the Netherlands on 9 May 1941, while Keith had died eleven days before Jack while flying in New Guinea on 27 May 1943: Tom is buried in Holland, Keith at Lae, and Jack at Hodogaya, Japan.
Although the three brothers are all buried far from home, and far from each other, they are remembered in Canberra. In 1946, a plaque was laid in their honour at St John's Church in Canberra; Canberra Grammar School's Eddison House is named for the three men; and Eddison Park in Woden – not far from their original family homestead – is named for the family.
(Australian War Section, Plot A, Row B)