Our father, Patrick Alfred Clift, was born in Goulburn, NSW, on 5 October 1901. His family moved to West Wyalong where his father obtained employment as an engine driver in the gold mines. Dad was educated at St Mary's Catholic School where he excelled in mathematics, and painting and drawing. He was also fond of music and studied violin. Our father and mother adopted one of Dad's favourite songs, 'We'll Meet Again' by Vera Lynn, as 'their song' when he joined the army in 1942.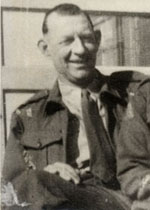 Dad left home early in his life and worked as a clerk in the post office, first in Goulburn and then in Queanbeyan, where he was very involved with local cricket and rugby league football and with the greyhound and horse racing fraternity.
He met our mother, Myrtle Ware, in 1926 when she was eighteen years old. After a seven year courtship, spent saving hard for their marriage and supporting other family members during the Great Depression, they married on 22 February 1933. They had six children including three daughters: Barbara (6 January 1934), Elaine (6 September 1935) and Patricia (6 June 1937). Patricia was called after Dad as our mother and father didn't think they'd ever have a son! However, on our mother's 31st birthday (27 November 1939) Anthony was born, followed by twin boys, Desmond and Basil on 27 January 1942.
War broke out in 1939 and, following the bombing of Darwin and the detection of Japanese submarines in Sydney Harbour, Dad was keen to join up and do his bit for his country. Although at 41 years of age he was too old for active service overseas, he enlisted on 9 March 1942 and was posted to the School of Military Engineering at Casula as a clerk. He was confirmed in the rank of Corporal on 14 May 1943 and promoted to Sergeant on 28 November 1944.
On 8 February 1946, Dad volunteered for the British Commonwealth Occupation Forces in Japan. He was posted to 8 Base Postal Unit, Kure, where he handled postal matters for the troops and Australian civilians. Dad enjoyed being in Japan. He took many photos and sent them home to us in his letters. On 22 April 1947 he was promoted to Warrant Officer Class 2.
Dad came home on leave for a month in the middle of 1947 and it was wonderful to have him home with us again. Four months after his return to Japan, however, he was admitted to the Australian General Hospital at Eta Jima with severe breathlessness. He lost consciousness and died of cardiac failure on 28 January 1948 and was buried with full military honours in the Commonwealth War Cemetery, Yokohama. After his death, his commanding officer Lt Hunt, wrote to my mother that, not only had he lost a very good friend but a most conscientious, reliable and likeable colleague.
Our mother loved our father dearly for the rest of her long life, rearing their six children by herself. She died 48 years after my father on 6 August 1996, Hiroshima Day, in her 88th year. My sister, Elaine, and I have both travelled to Japan at different times to visit our father's grave. To see the grave in such a tranquil setting, surrounded on the rise by Australian eucalypts, so beautifully cared for, moved both of us beyond words. May he rest in peace.
(Post War Section, Plot C, Row A, Grave 13)
Written by his eldest daughter, Mrs Barbara Adams, on behalf of his 6 children.