18 January 2018
Ambassador Richard Court AC announced today in Tokyo the schedule of events for the Australia now program, presenting the best of Australian innovation, lifestyle and creativity in Japan from April to November 2018. The announcement coincides with Prime Minister Malcolm Turnbull's visit to Japan today broadening our Special Strategic Partnership.
Highlights include a major touring exhibition, Yidaki: Didgeridu and the Sounds of Australia, and Australia's world-renowned Bangarra Dance Theatre to build on Japan's interest in Australia's proud Aboriginal and Torres Strait Islander cultures, and a special opening concert by the Australian Chamber Orchestra, alongside visits by Australia's leading academics and top sporting teams.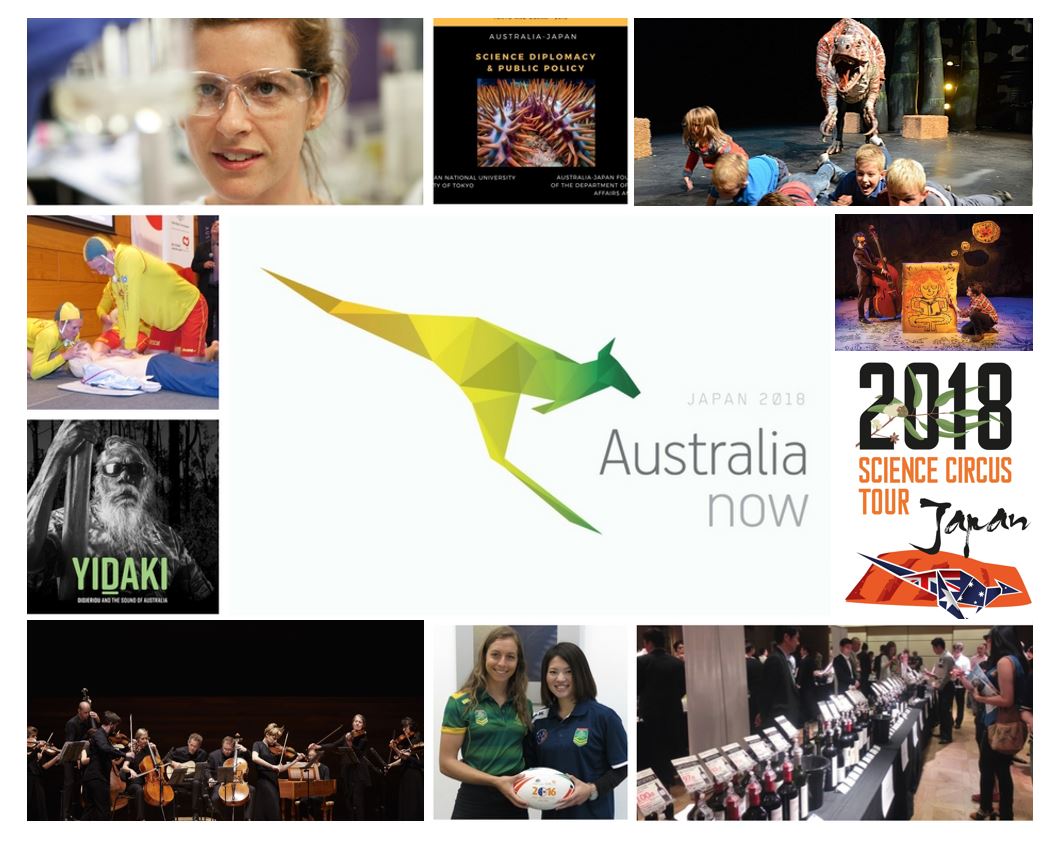 Ambassador Court issued a warm invitation to Japanese friends to attend the full range of activities on offer: "Australian and Japanese share a mutual warmth and interest in each other's culture. Australia now 2018 celebrates this special friendship by inviting Australia's most talented performers and brightest minds to share their experiences right here in Japan," Mr Court said.
The program will feature almost 40 events across the themes of innovation, lifestyle and creativity.
Australia's enviable lifestyle will be on show with a major exhibition of Australian architecture, an outdoor film festival, Australian beef, lamb and wine promotions, interactive children's educational theatre and rugby, touch football and lifesaving exchanges.
The program will build on the busy research agenda between Australia and Japan including collaborations with Universities Australia, the National Health and Medical Research Council and Australia's leading universities. Questacon will bring its highly popular Science Circus Tour back to Japan with support through the Australia-Japan Foundation.
Finally, the program will touch upon important social issues affecting Japan including aging and disability inclusion through Australian life science promotions and visits by Mature Artists Dance Experience Dance Theatre.
Ambassador Court highlighted the significance of the program noting, "Australia now is an opportunity to celebrate the depth of existing engagement between Australia and Japan and to build new relationships for the future."
Australia now is an exciting eight-month program presented by the Australian Government showcasing contemporary Australia in one focus country each year. The program is funded through the Department of Foreign Affairs and Trade together with corporate partners: Woodside, Rio Tinto, BHP, ANA, Japan Airlines, New South Wales Government, Qantas, Sumitomo Mitsui Banking Corporation/SMBC NIKKO Securities Inc., True Aussie Beef, Tourism Australia, JTB, INPEX CORPORATION and Government of Western Australia.
Details on the above events and the full Australia now program are available at: australianow2018.com/en.