An important relic from WWII was returned to family members at a ceremony in Koriyama, Fukushima Prefecture. The hinomaru yosegaki or "Good Luck Flag" belonged to former Japanese soldier Matsuo Abe who died at the Battle of Imphal on 25 March 1944. The return of the flag to Mr Abe's family is an important symbol of the reconciliation and deep friendship that has developed between Japan and Australia over the past 70 years.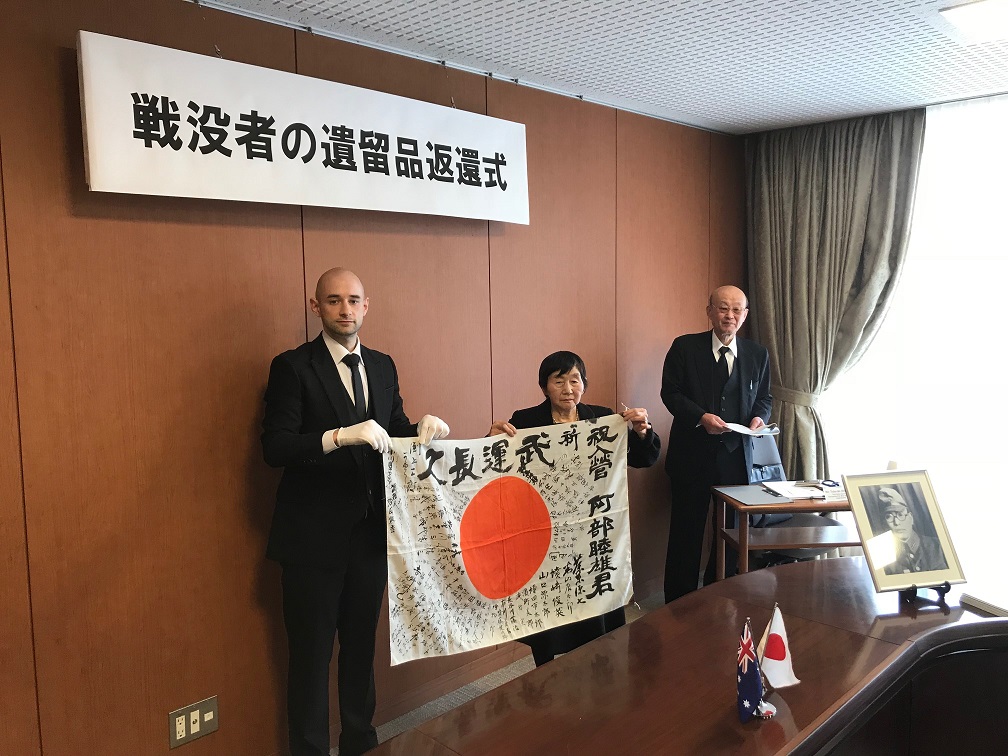 The flag came into the possession of Mr Charlesworth who was serving on HMAS Strahan at the end of WWII and was passed down through his family. Last year, Mr Charlesworth's grandson Liam contacted the Australian Embassy seeking assistance to return the flag to its original owner.
Through the Japan War-Bereaved Families Association, the flag was identified as belonging to the former Japanese soldier Matsuo Abe. The War-Bereaved Families Association arranged for the return of the flag at a ceremony in Koriyama on 25 March 2019, exactly 75 years after Mr Abe died at the Battle of Imphal. Mr Abe's sister-in-law, Masako Abe received the flag from Australia's Ambassador to Japan, His Excellency Richard Court, AC and Mr Liam Charlesworth who had travelled from South Australia for the ceremony.
Speaking at the ceremony, Ambassador Court commented on how remarkable it was to be returning the hinomaru yosegaki exactly 75 years after Mr Abe died and that it was difficult for us to fully comprehend just what a special moment this must be for the Abe family. On the remarkable reconciliation and friendship between Australia and Japan, Ambassador Court said " I'm sure that Matsuo and Liam's grandfather could not have imagined the strength of the bond that would exist between Australia and Japan in the year 2019. But I would like to think that both would be very pleased and proud that their family members were gathered here in Koriyama today".