In Tokyo on 3 April, Australian Ambassador H.E. Mr Richard Court AC launched the AUS+RALLY campaign, an Australian Government sports diplomacy initiative celebrating Australia and Japan's shared sporting passions, values and the connections sport unlocks in 2019 and 2020.
Ambassador Court was joined in Tokyo for the launch by AUS+RALLY special guests, Wallabies Head Coach Mr Michael Cheika, Olympic gold-medal-winning swimmer Ms Leisel Jones OAM (London 2012, Beijing 2008, Athens 2004, Sydney 2000), Paralympic gold-medal-winning para-canoeist Mr Curtis McGrath OAM (Rio 2016) and Japan's Minister for Reconstruction H.E. Mr Hiromichi Watanabe.
Launched in partnership with Rugby Australia, the Australian Olympic Committee (AOC) and Paralympics Australia, the AUS+RALLY sports diplomacy initiative celebrates Team Australia in Japan in 2019 and 2020. The AUS+RALLY campaign name combines the Japanese name for 'Australia' with a rallying call for Team Australia as the world's sporting attention turns to Japan. AUS+RALLY brings together new and existing sports diplomacy activities through a communications and events program. The program is intended to support Japan's hosting of the world's greatest sporting events and their important legacy.
Ambassador Court launched the AUS+RALLY campaign, saying: "As the world's sporting talent descends on Japan, there has never been a better time for Japan and Australia to engage through sport. From 2019 into 2020, sport can be a window into all that Australia and Japan celebrate – innovation, lifestyle, education, food and culture. I invite you to rally around the best of Australia in Japan!
AUS+RALLY supports the Australian Government's pioneering work on sports diplomacy, reinforced in the Sports Diplomacy 2030 strategy launched on 1 February by Australian Minister for Foreign Affairs, Senator the Hon Marise Payne and Minister for Sport, Senator the Hon Bridget McKenzie.
Welcoming the launch from Australia, Minister Payne said AUS+RALLY would build on Australia's already strong sporting ties with Japan.
"By bringing together Team Australia in Japan, the Australian Government's AUS+RALLY sports diplomacy initiative shows our support for Japan's leadership in focusing the world on our shared Indo-Pacific region through the power of sport," Minister Payne said.
"I know Japan will deliver on its reputation for excellent hospitality as it hosts the world's greatest sporting events in 2019 and 2020."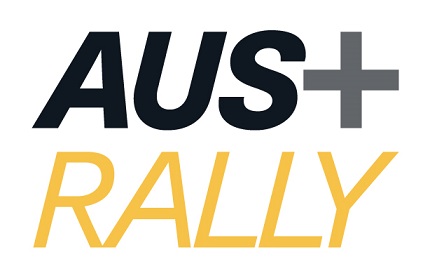 Minister for Sports McKenzie said that Australia is known as an active and healthy sporting nation, producing a broad range of athletes and sports administrators with integrity and character.
"Our love and dedication to sport can provide us with unique opportunities to engage our neighbours, whilst advancing our national interests. Australia, like Japan, recognises the power of sport to bring people and nations together. While the focus of our sports diplomacy is global, at its heart this strategy is about engaging with our neighbourhood," Minister McKenzie said.
The AUS+RALLY launch took place at the Australian Embassy's Australia Day in Spring celebration, attended by over 1,000 friends of Australia in Japan, including senior representatives of Australian and Japanese business, government and community organisations. Representatives of the Cabinet Secretariat's Host Town Initiative, ChildFund Australia (Pass it Back initiative), Tokyo Organising Committee of the Olympic and Paralympic Games (TOCOG), and Rugby World Cup 2019 Organising Committee were present for the launch.
Rugby Australia, Chief Executive Raelene Castle said that Rugby Australia is uniquely positioned to provide strong engagement in Asia through Australia's national teams and athletes and Rugby Australia is very proud to be doing so.
"The Qantas Wallabies are one of the world's most recognised sporting brands and the Rugby World Cup in 2019, coupled with Rugby Sevens to be played at the Tokyo 2020 Olympic Games, puts Rugby in a strong position to further enhance our relationships with Japan and the wider region," Ms Castle said.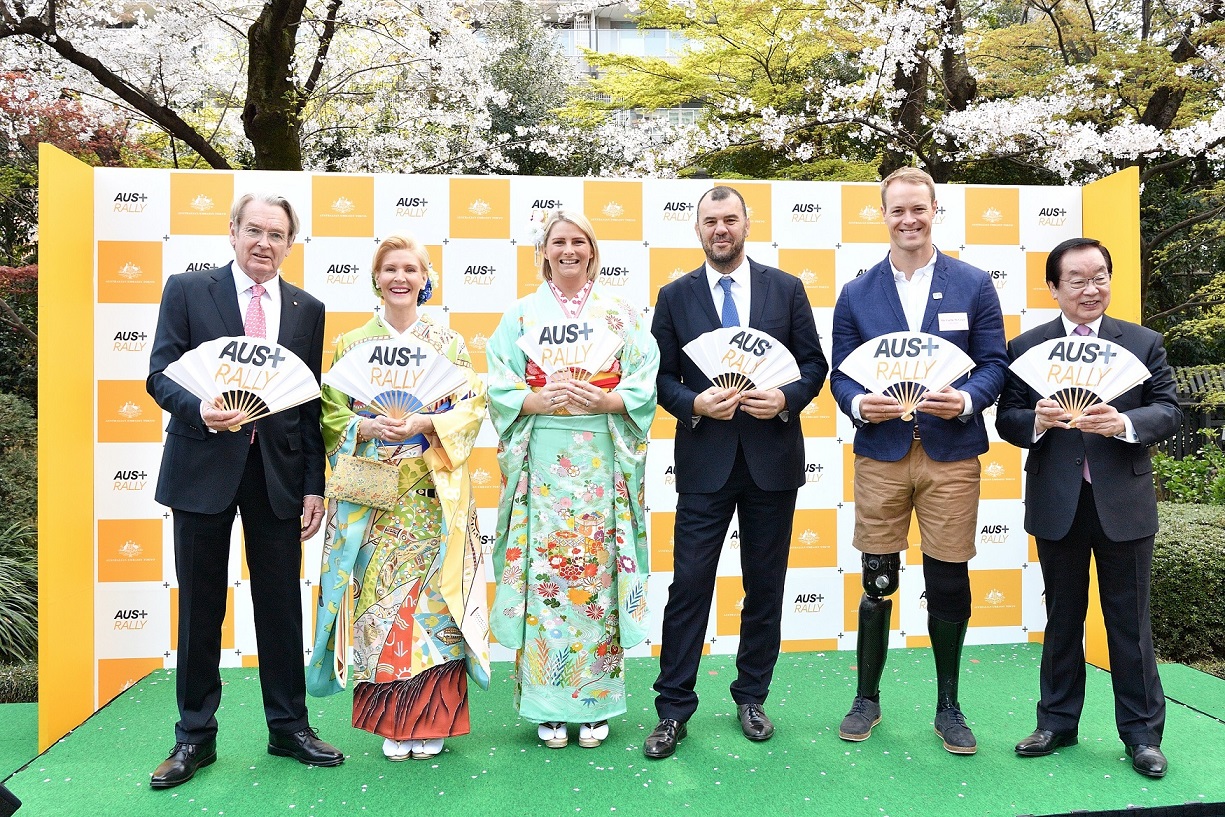 "The launch of AUS+RALLY will allow Rugby Australia, in partnership with the Australia Government, to enhance our diplomatic and trade outcomes with one of our closest partners. I know that tens of thousands of Australians are looking forward to travelling to Japan to support the Wallabies and Sevens Teams over the next two years, which will enhance the friendship between the two countries and provide significant revenue to Japan's economy."
AOC Chief Executive Officer, Mr Matt Carroll AM, welcomed the AUS+RALLY launch, noting the AOC can play a valuable role building bridges in the Asia/Pacific region and beyond.
"Whether this is through our representation on regional sporting bodies or our participation in multi-sport Games, the AOC has forged strong relationships. And there is no bigger stage than the Olympic Games in Tokyo next year. With our family of 44 sports, the AOC has both the capacity and the desire to make a contribution on the ground in a substantial way."
Paralympics Australia Chief Executive Lynne Anderson said the AUS+RALLY campaign will make a long-lasting impact.
"The people of Japan now have a golden chance to build a more inclusive society for people with a disability through Paralympic sport; to challenge stereotypes and transform attitudes; to increase participation and engagement by breaking down social barriers and do so in a way that sets a new standard for the rest of the world to follow," Ms Anderson said.
"Paralympics Australia is excited to help the people of Japan achieve that goal alongside the Australian Embassy Tokyo, the Australian Olympic Committee and Rugby Australia."
"AUS+RALLY will increase the interest in Rugby World Cup 2019 and create opportunities for more people to engage with rugby. As two-time world champions, we look forward to welcoming the Wallabies and wish them the best of luck. Many international fans will visit Japan and we hope they travel the length and breadth of the country to explore its diverse culture and history. They will engage with local people across our country and build connections that will lead to friendships lasting long after the tournament," Rugby World Cup 2019 Organizing Committee CEO, Mr Akira Shimazu said.
"The spirit of AUS+RALLY is already alive. Matt Carroll AM, AOC Chief Executive Officer was involved with the Organising Committee from the very early days as we were established our organisation. He provided valuable support and advice and we very much look forward to welcoming him back to Japan to experience the Rugby World Cup."
Background
AUS+RALLY is a sports diplomacy initiative of the Australian Embassy Tokyo, run in collaboration with the Rugby Australia, the Australian Olympic Committee (AOC) and Paralympics Australia in 2019 and 2020. The AUS+RALLY communication and events program brings together new and existing sports diplomacy activities to support Japan's hosting of the world's largest sporting events.
Running until September 2020, AUS+RALLY unites Australia's sportspeople, sports leaders and sports fans in support for Japan's hosting and important legacy of the world's three biggest sporting events. The campaign emphasises themes that match our common sporting and cultural values, like inclusiveness, respect and follow-through.
As one of Japan's closest regional partners, Australia already enjoys a deep sporting connections and a healthy sporting rivalry with Japan. Through the Australia-Japan Foundation, Australia played a leading role in the introduction of life-saving and touch football into Japan in the 1970s and 1980s. Since then, Australian and Japanese sports people have enjoyed a steady exchange of competitions and players. In 2017 and 2018, national teams from Australia and Japan played each other 23 times in Japan and around the world. Over the same period, eleven Australian teams visited Japan, and many elite Japanese athletes travelled to Australia to train and play, including in baseball, tennis, golf and surfing.
Japan's timezone, proximity and familiarity for many Australians mean that upcoming sporting events in Japan will engage a new generation of Australians with international sport and Japan. Australia and Japan's A$72 billion trade relationship and growing defence and strategic ties also give these sporting events added meaning and potential to Australia.
Australia and Japan's close sporting ties were recognised in the signing of the Australia-Japan Sports Memorandum of Cooperation signed in January 2017. The Australian Government has pioneered international sports diplomacy efforts, recognised in the Australian Sports Diplomacy 2030 strategy, the Australian Sport 2030 - National Sport Plan and the Australian Foreign Policy White Paper, all of which recognise the diplomatic value of sport.