Australian Ambassador Richard Court AC presented a certificate to Mayor Mr Kenichi Kato from Odawara City in Kanagawa Prefecture as the first official partner of the AUS+RALLY campaign, an Australian Government sports diplomacy initiative in Japan in 2019-2020. The Australian Embassy Tokyo welcomed the Mayor to a ceremony to celebrate the city on Wednesday 12 June, marking 100 days to the opening of the Rugby World Cup 2019.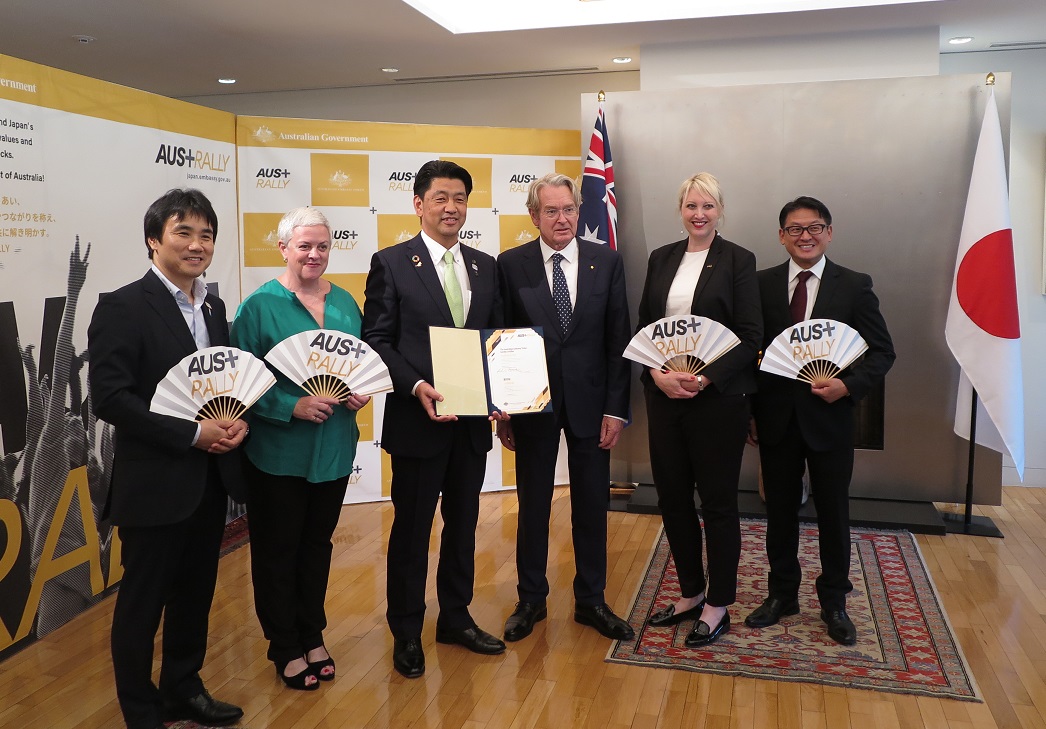 Odawara City will provide a training base for the Wallabies leading up to the Rugby World Cup 2019, and for the Australian Rugby Sevens teams ahead of the 2020 Olympics. The city has enjoyed a strong connection with Australia for nearly 30 years through an annual reciprocal language and cultural student exchange with Northern Beaches Council where Former Manly Council formed a Friendship City Agreement with Odawara in 1991.
Launched in April 2019 in partnership with Rugby Australia, the Australian Olympic Committee and Paralympics Australia, the AUS+RALLY sports diplomacy initiative celebrates Team Australia in Japan in 2019 and 2020. AUS+RALLY brings together new and existing sports diplomacy activities through a communications and events program. The program is intended to support Japan's hosting of the world's greatest sporting events and their important legacy.
AUS+RALLY partner organisations are given the title "Friends of Australia", recognising their valued support for Team Australia ahead of Japan's hosting of major sporting events. Friends of Australia will actively cross-promote their activities in collaboration with the Embassy. AUS+RALLY invites people across Japan to rally around the best of Australia.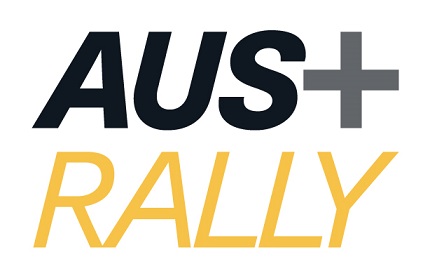 Welcoming Odawara city, Ambassador Court says "We are honoured to have Odawara City recognised as the first AUS+RALLY Friend of Australia. We appreciate your enthusiastic support to Team Australia in providing a welcoming base for Australia's rugby teams in Japan. Through the power of sport, we look forward to close relations between Odawara and Australia into the future."
Mayor Kenichi Kato of Odawara City said "It gives me great pleasure that Odawara City has been selected as the first official partner for this sports diplomacy campaign. We are making preparations so that everything is in place to welcome members of Team Australia. City Hall will work with local people in a range of ways to get people into the sporting spirit and cheer on the athletes. We are keenly looking forward to seeing outstanding results from Team Australia athletes at not only the Rugby World Cup but also the Tokyo Olympics and Paralympics."
About AUS+RALLY
As the world's sporting talent descends on Japan, there has never been a better time for Japan and Australia to engage through sport. From 2019 into 2020, sport can be a window into all that Australia and Japan celebrate – innovation, lifestyle, education, food and culture. AUS+RALLY invites all to rally around the best of Australia in Japan!
Background
AUS+RALLY is a sports diplomacy initiative of the Australian Embassy Tokyo, run in collaboration with the Rugby Australia, the Australian Olympic Committee (AOC) and Paralympics Australia in 2019 and 2020. The AUS+RALLY campaign name combines the Japanese name for 'Australia' with a rallying call for Team Australia as the world's sporting attention turns to Japan. The AUS+RALLY communication and events program brings together new and existing sports diplomacy activities to support Japan's hosting of the world's largest sporting events.
As one of Japan's closest regional partners, Australia already enjoys a deep sporting connections and a healthy sporting rivalry with Japan. Through the Australia-Japan Foundation, Australia played a leading role in the introduction of life-saving and touch football into Japan in the 1970s and 1980s. Since then, Australian and Japanese sports people have enjoyed a steady exchange of competitions and players. In 2017 and 2018, national teams from Australia and Japan played each other 23 times in Japan and around the world. Over the same period, eleven Australian teams visited Japan, and many elite Japanese athletes travelled to Australia to train and play, including in baseball, tennis, golf and surfing.
The Wallabies and Odawara City
Odawara City, a Friendship City of Northern Beaches Council, has decided to bring the Wallabies, one of the world's best national rugby teams. Of nine submissions to Rugby Australia, Odawara was chosen. Odawara, Hilton Odawara Resort & Spa and Rugby Australia signed an MOU in August 2018 to establish a training base for both the Rugby World Cup and the Olympics for the Australian national teams.
Following the MOU, the Wallabies trained at the Shiroyama Stadium from October to November 2018 and the Women's Sevens team will train there for a week in late July 2019. The Wallabies will return to Odawara in the middle of September just before the Rugby World Cup. Odawara is hosting other off field activities such as the school visit by the players and meeting of business leaders from both countries.
Odawara is posting the team's profile as well as the latest news on a website dedicated to the Wallabies.