Australia supported Tohoku in its recovery after the March 2011 Great East Japan Earthquake and Tsunami. This cooperation was multifaceted, and included the Government, Australian business, regional authorities, and community groups.
Australia is Japan's friend and partner, and will always remain so. Below are a number of projects the Australian Embassy Tokyo have been involved in.
Projects by Year
Aug 2019 - Certificate of Appreciation from Minami Sanriku
Ambassador Richard Court AC was honoured to welcome Mayor Jin Sato of Minami Sanriku, Miyagi to the Embassy to present a Certificate of appreciation for support from Government, Business and Community since the 2011 Great East Japan Earthquake and Tsunami. The relationship with Minamisanriku began immediately following the disaster when the Urban Search and Rescue team deployed to Japan worked in the town to search for survivors. Two Embassy staff members whom at the time, worked with the rescue team were able to join on this occasion. Over eight years has passed since the disaster, and Minami Sanriku is now looking to thank the people that have supported them to rebuild and revive their town.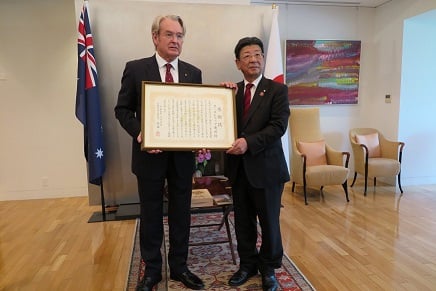 Aug 2019 - Support Our Kids Homestay Program
Six students from Tohoku region travelled to Melbourne with Australia-Japan Foundation grantee Support Our Kids. Ambassador Richard Court greeted the group prior to their departure at the Embassy. They studied at school throughout their homestay and enjoyed Melboune, visiting an AFL game and the Melboune Park!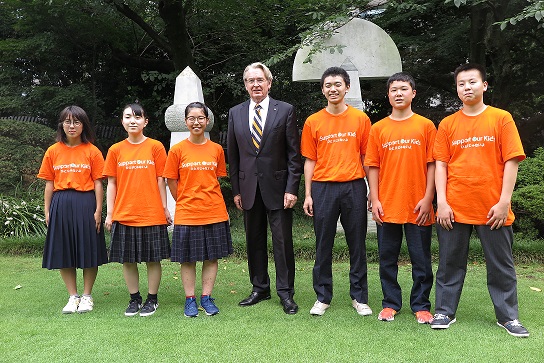 Aug 2018 - Support Our Kids Homestay Program
Six inspiring students from Tohoku region travelled to Brisbane, Australia with Australia-Japan Foundation-grantee Support Our Kids. During their activity-packed two-week homestay program, the students toured the Queensland Art Gallery / Gallery of Modern Art and enjoyed a lunch hosted by Chris Saines, AJF Board Member and Gallery Director.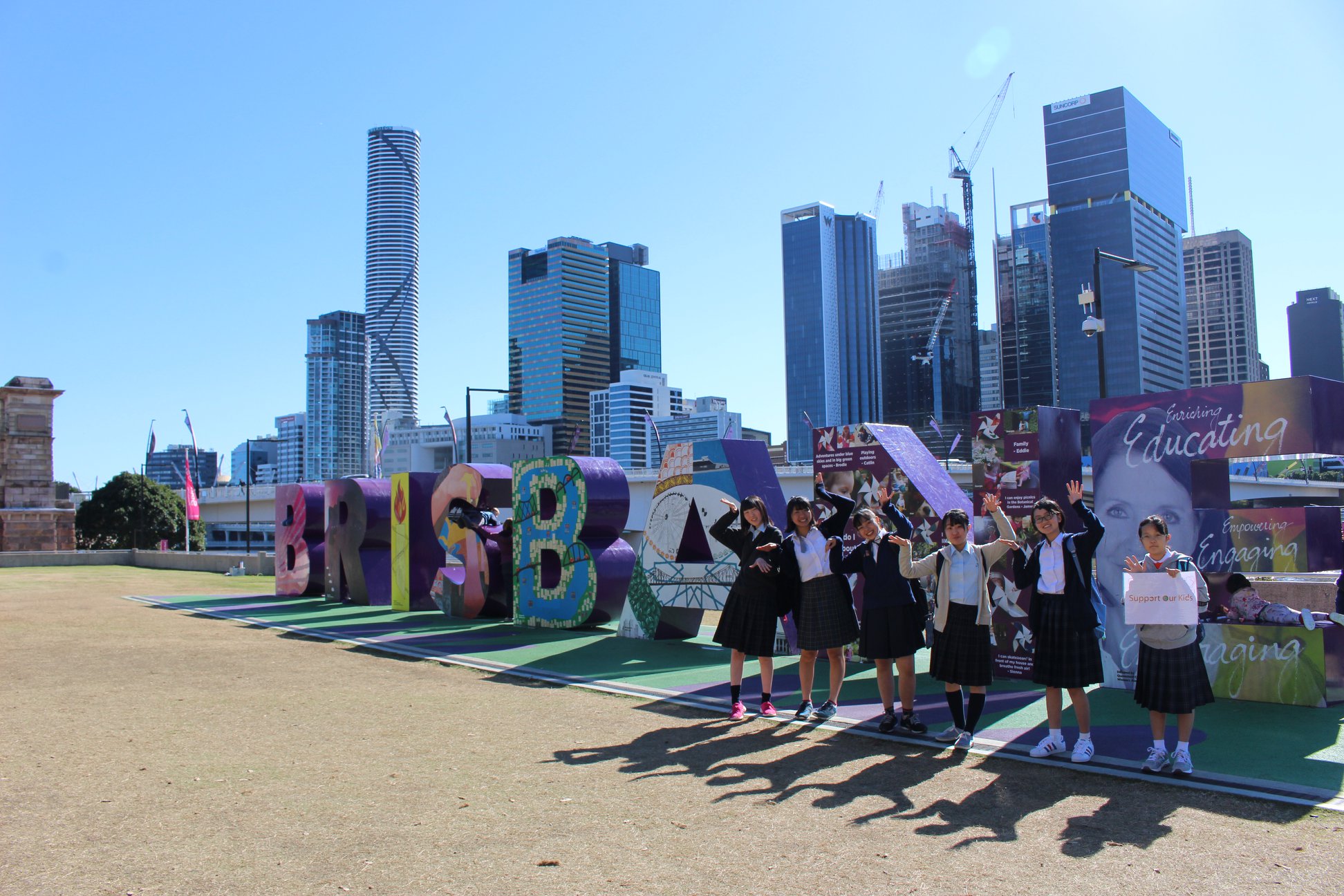 Mar 2018 - Polyglot Theatre returns
Australia's Polyglot Theatre returned to Minami Sanriku in March 2018. This was their fourth visit to the disaster-affected area since 2011. Working with Japan's NPO Acchi Cocchi, Polyglot's performer shared their unique mix of experiential, interactive and installation theatre with local children during a public performance and visits to five primary schools. Australia has been supporting reconstruction in the disaster-affected Tohoku region since 2011 and remains committed to working with Japan to help Tohoku recover. Supported by the Australia-Japan Foundation.
'Staging a recovery' - article by Rosemary Neill, The Australian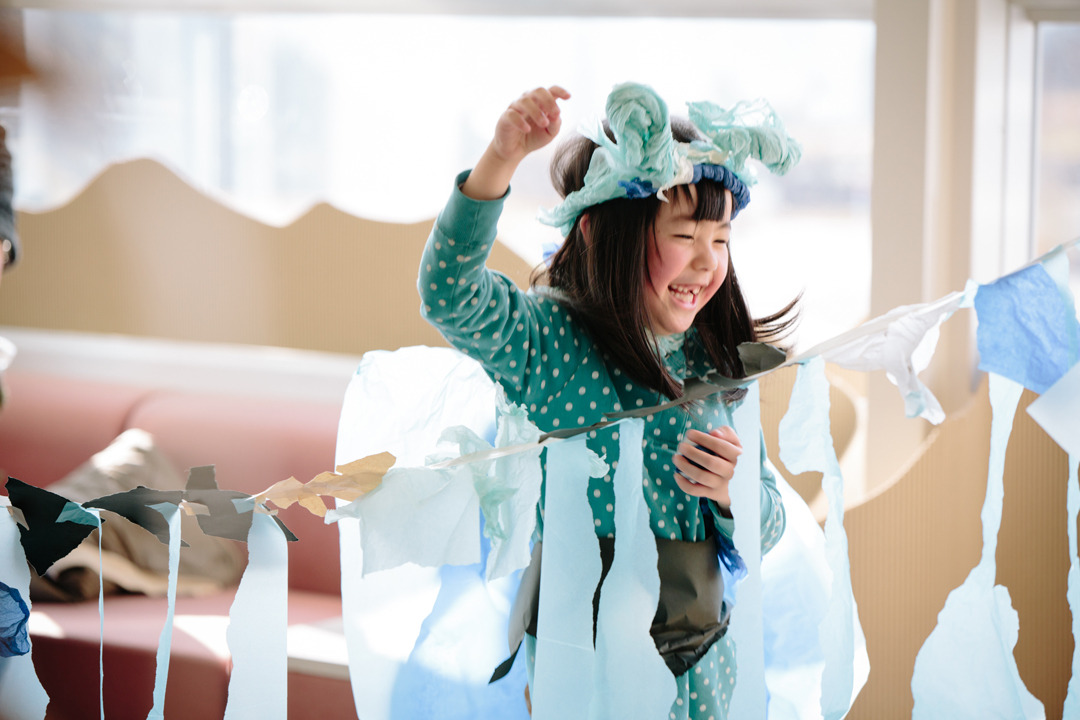 Photo: Ai Ueda
Sep 2017 - Monash Art Ensemble visits Iwate prefecture schools
The Paul Grabowsky Quartet made his third visit to the regions affected by the Great East Japan Earthquake and Tsunami in Iwate Prefecture. This year they visited a school which was affected severly by a Typhoon in 2016 in addition to two schools in Kuji area.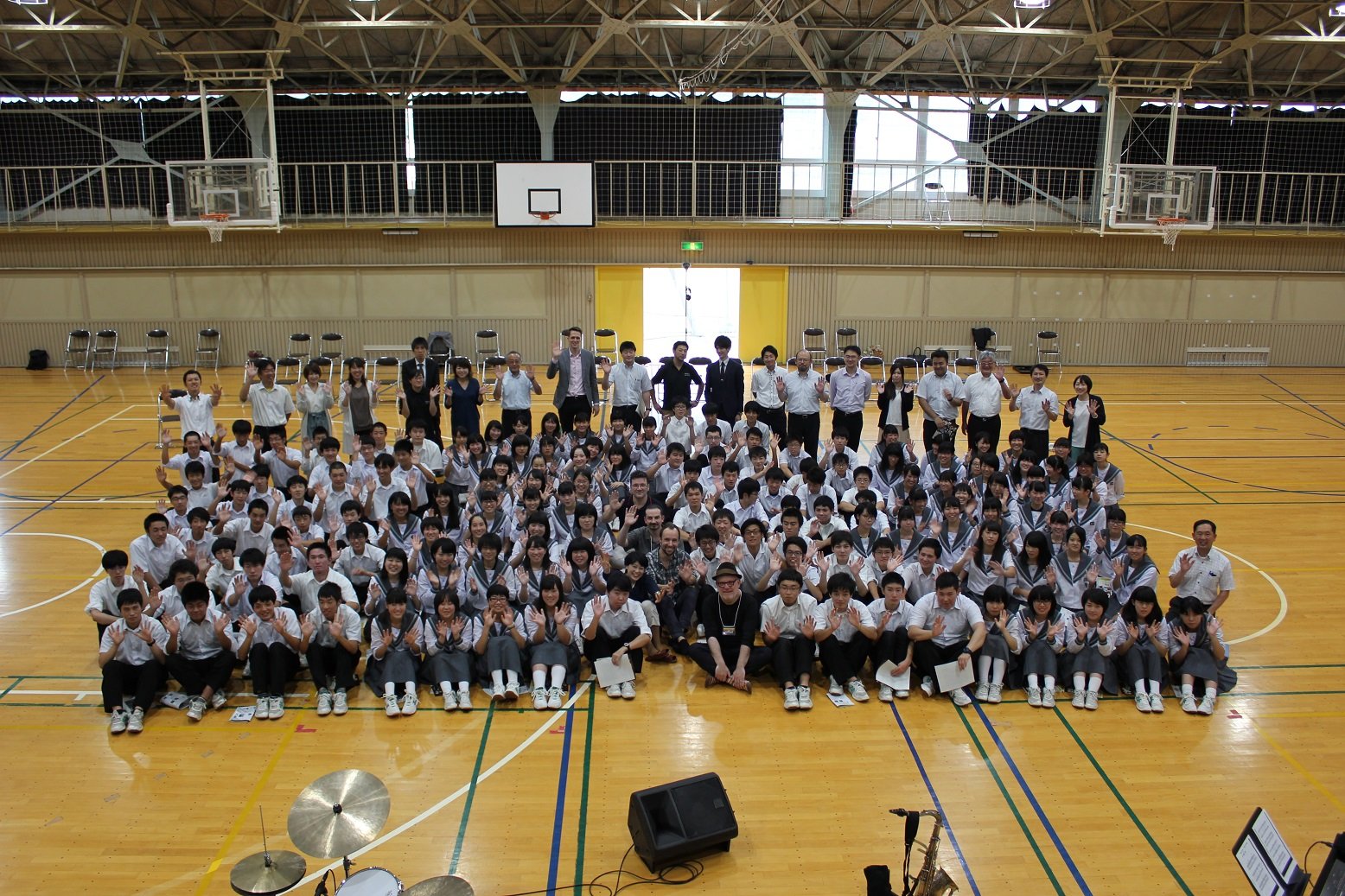 Aug 2018 - Support Our Kids Homestay Program
Mar 2017 - Tohoku Support Weekend
Embassy staff joined the annual Tohoku Weekend with ANZCCJ and Club Australia with over 50 participants. The group toured Minami Sanriku and were met by Mayor Jin Sato at Koala House. The group participated in the Tohoku Food Marathon on the following day in half marathon races and kids races.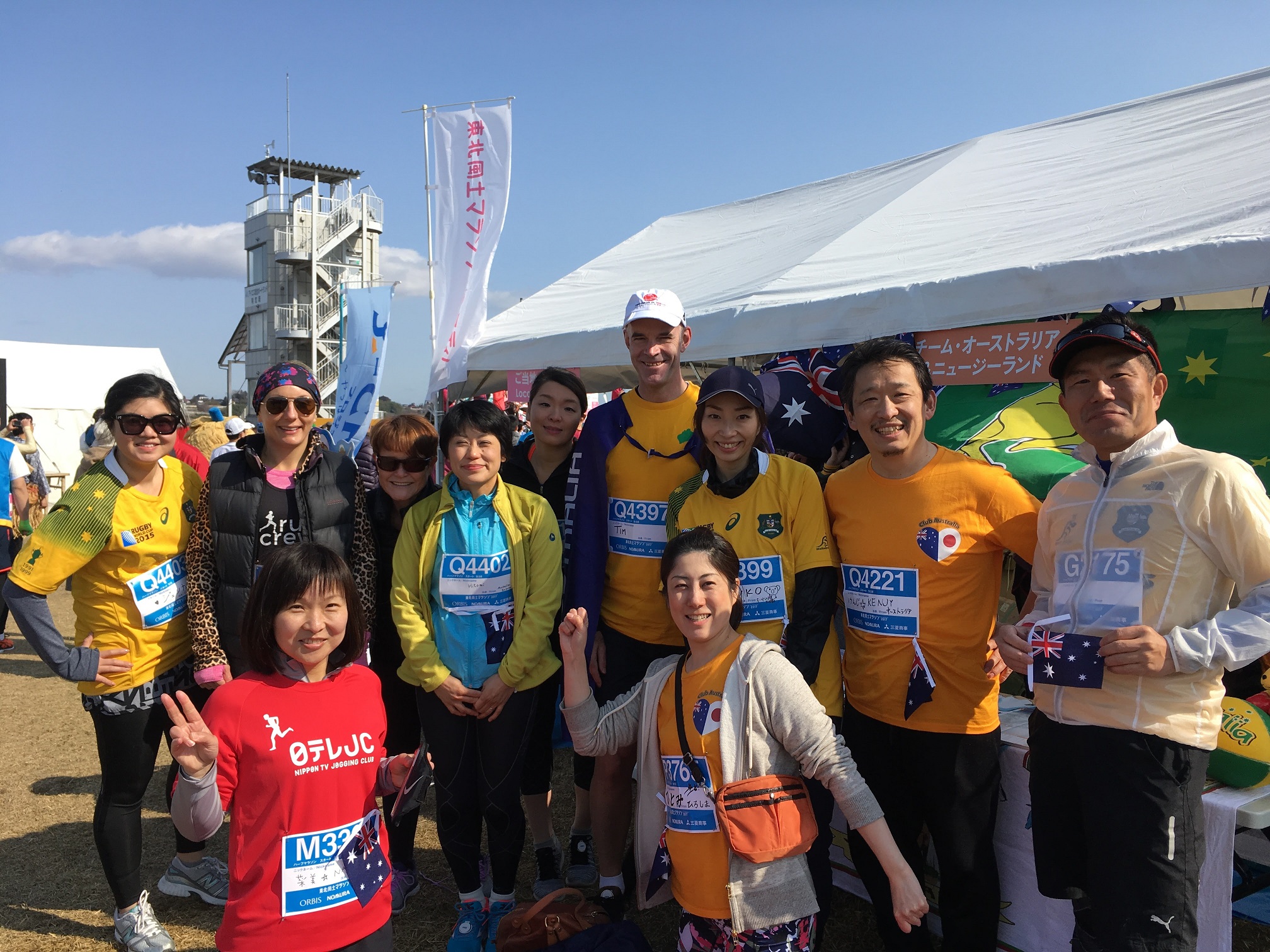 Sep 2016 - Monash Art Ensemble visits Iwate prefecture schools

Three musicians from the Monash Art Ensemble led by Paul Grabowsky AO travelled to Iwate prefecture to perform at two schools that were affected by the 2011 Disaster. The Quartet, supported by the Australia-Japan Foundation visited two schools and had the opportunity to meet with a local jazz band and here their experiences. This is the sixth visit by Australian Jazz musicians to disaster-affected schools, and they have performed for more than 2,000 students over the course of this time.

Aug 2016 - Support Our Kids Homestay Program

Students from Tohoku including four students from Minami Sanriku, Miyagi participated in the AJF-funded Support Our Kids (SOK) Homestay program in Brisbane. A send-off afternoon tea event was held at the Australian Embassy, before their departure. The kids learned from Ito-en staff the proper way to serve Japanese tea, so they could prepare for their host families during their visit. The students enjoyed a full 2 week stay in Brisbane, and were all in tears when they had to part from their host families. They all reported that this experience was a life-changing one and were determined to work hard for their dreams and the reconstruction of their towns.


May 2016 - Tohoku Joint Volunteer Weekend with ANZCCJ

In collaboration with Australian and New Zealand Chamber of Commerce in Japan and Club Australia, Embassy staff members spent a weekend in Minami Sanriku. 'Team Australia' enjoyed a day of Street Rugby and storytelling, cruising the Shizugawa bay on Saturyda, and on the following day, participated in the town's recovery market 'Fukkoichi'. This was the 3rd time, since 2011 that 'Team Australia' participated. Australian wine, beer and coffee and Aussie Steak Burgers were enjoyed by the local people.

Mar 2016 - Australian Embassy memorial event

The Australian Embassy Tokyo held a commemorative afternoon tea event along with the ANZCCJ and Australian companies and organisations which have been supporting the region. Minami Sanriku officials, along with the members from the Urban Search and Rescue team from NSW that were dispatched to Minami Sanriku spoke of their expereinces. Australia is with Tohoku.

Mar 2016 - 5th Memorial in Minami Sanriku

On 11th March 2016, a memorial ceremony commemorating the 5th anniversary of the Great East Japan Earthquake was held in Minami Sanriku. It was attended by Ms Clare Walsh, Minister and DHOM, former and current AJF Board members and Ms Liza Watts, AJF Manager. Two members of the then-Australian rescue team revisited the town and met with Mayor Sato.

Sep 2015 - Australian musicians coninue to play for Iwate

The Paul Grabowsky Trio performed at three schools in Iwate prefecture in regions which had been affected by the 3.11 earthquake and tsunami. With cooperation from the Iwate Cultural Promotion Agency, the trio delivered smiles to their students faces and the students gave back by singing their school songs with the trio's music.

This is the 5th tour of Australian musicians to travel up to perform in Iwate following the disaster. We have been able to demonstrate continued Australian support through this program.

Jul/Aug 2015 - Support Our Kids Homestay Program

Ten Students from Tohoku including two students from Minami Sanriku participated in the AJF-funded Support Our Kids (SOK) Homestay program at Craigslea State High School in Queensland. This is a new program succeeding the three study tours conducted for Minami Sanriku students following the disaster. Prior to their visit, the students took part in orientations sessions and also prepared a presentation on their disaster experience and presented to the school in English.

The students reported on what they had achieved and how this was a life-changing experience in tears at an informal reporting session upon their return to Japan.

SOK Australia 2015: A video of the Student's presentation https://youtu.be/ArjsHjoY7Uo

SOK Australia 2015: A video of their 2 week homestay https://youtu.be/7mSgFqRxkvw

May 2015 - Joint Tohoku Volunteer Weekend

The Australia New Zealand Chamber of Commerce in Japan (ANZCCJ) organised their sixth volunteer trip to Minami Sanriku on 30-31 May 2015. Members of Club Australia and Embassy staff also participated with around 40 people participated and met with the local community at the BBQ and Polyglot Theatre's performance. After the group hosted the BBQ at Koala House, they weeded a green onion field for a local farmer and assisted the town by digging rubble out of drains at a local beach the following day.

May 2015 - Polyglot Theatre return to Minami Sanriku

Polyglot Theatre returned to Minami Sanriku following their successful program in Nov 2013 'We built this town'. On this occasion, they collaborated with a Japanese NPO Acchi Cocchi to deliver a program to both the elderly and the young in the town.

Mar 2015 - Support Our Kids Charity Dinner

On 16 March 2015, with support from the AJF, the Embassy invited Minami Sanriku's Ms Kiyoe Abe, librarian at Koala House, and Mr Jinichi Sasaki, the then-Deputy Director, Board of Education, to participate in two events in Tokyo. They attended a charity dinner hosted by Support Our Kids (SOK), an AJF grant recipient which has been conducting homestay and leadership development program for Tohoku students through charitable donations.

SOK sent ten students to Queensland, Australia in August 2015. Mr Norio Kanno, Mayor and Mr Chohei Sato, Councilman from Iitatemura village in Fukushima were also invited in light of the strong connections developed when the AJF gifted a playground and mobile library to Iitatemura in 2012. The dinner was a valuable opportunity to bring together ain partners and to show Australia's strong support for the Tohoku region.

Ms Abe and Mr Sasaki attended a morning tea session at the Embassy on the following day, to speak about their disaster experience and the town's reconstruction progress. Ms Abe gave the audience a digital tour of Koala House, detailing the ways in which the facility had assisted community recovery since 2013.

She spoke movingly of her daughter's experience on the first study tour to Australia in 2011, saying it was only because of Australia that her daughter had learned to smile again. In contrast, Mr Sasaki spoke about his experiences of the tragedy itself and how at one point he gave up on living. Mr Sasaki story told in vivid detail the horrific scale and enormity of the disaster.

Mar 2015 - Minister for Justice to visit Minami Sanriku

In March 2015, the Hon Michael Keenan MP, Minister for Justice, who attended the United Nations Disaster Management Conference in Sendai paid a visit to Minami Sanriku. Minister Keenan was guided through the town which had been devastated by the 3.11 Earthquake and tsunami by a Minami Sanriku Official Mr Jinichi Sasaki who made a hairbreadth escape on that day. Minister Keenan met with Mayor Sato and conveyed Australia's continued support for the town. The Minister also visited the Koala House and gifted a copy of "The Slap" which had just been published in Japan as part of AJF's Masterpieces of Contemporary Literature.

Sep 2014 - Australian Jazz Musicians perform in Iwate

Australian Jazz Band Cookin' On 3 Burners toured Japan in September 2014 (supported by AJF). They started off their Australian Jazz Journey by performing at the prestigious TOKYO JAZZ FESTIVAL and continued on to perform in the Tohoku region to show support for the children of the devastated areas of the 3.11 Disaster.

This was the fourth Jazz Journey up in Iwate prefecture since 2011 which the Australian Embassy has been apart of. The band also had the opportunity to perform at the Jozenji Street Jazz Festival in Sendai and the Iwate JAZZ 2014.

Apr 2014 - Questacon Science Circus Tour of Japan

Questacon, The National Science and Technology Centre of Australia, in partnership with The National Museum of Emerging Science and Innovation (Miraikan) supported by the Australia-Japan Foundation, toured science shows and a travelling exhibition through the Tohoku region, including disaster-affected areas in April and May 2014. The Tohoku tour started off in Minami Sanriku where Embassy staff volunteered to put on an Aussie BBQ.
More

Mar 2014 - Australia Study Program for Minami Sanriku Schoolchildren

The third study tour to Australia by junior high school students of Minami Sanriku was conducted from 25 March to 2 April in 2014 funded by the Australia-Japan Foundation. The study tour included schooling for five days at Cleveland State High School, homestay, and exchange activities with local students and the community.
More

Nov 2013 - Polyglot Theatre - We built this town

Melbourne's Polyglot Theatre brought a tailor-made version of its successful interactive performance, 'We Built This Town' to Minami Sanriku (funded by AJF). Polyglot Theatre worked with local children and their families on a giant cardboard 'construction site'. Children were invited to put their creative skills to work and build their own town out of 3,000 cardboard boxes. Australian volunteers in Japan travelled to Minami Sanriku to prepare for the performance, carry out volunteer activities and spend time with the local people in Minami Sanriku. The performance was followed by an Aussie BBQ in front of Koala house.

More Polyglot Theatre we built this town .

Sep 2013 - Australia Jazz Musician visit Iwate schools

Dereb the Ambassador had heard Tohoku kids were shy and reserved. But after taking their unique style of upbeat jazz to schools in Iwate, the eight-piece Australian band didn't believe it. The band performed at three schools in communities affected by the 2011 earthquake and tsunami in Miyako, Yamada and Otsuchi on the Iwate coast.

More Australian Jazz Musicians visit Iwate Schools .

Mar 2013 - Australia Study Program for Minami Sanriku Schoolchildren

In March 2013, a group of 20 schoolchildren from Minami Sanriku visited Victoria . English classes, farm stays and Phillip Island's world-famous 'penguin parade' were on the agenda. This study tour was funded by Australia-Japan Foundation.

Feb 2013 - ANZ Bank Lifelong Learning Centre in Minami Sanriku

On February 1, "Minamisanriku Town Australia Friendship Learning Center (Koala House)" opened in Minamisanriku Town, Miyagi Prefecture. Australia and New Zealand Bank donated approximately 53 million Japanese yen to cover project costs. The centre is the first non-temporary public facility built in the town after the disaster. The facility includes a library room.

On 31 October 2014, at the Japan Library Association's 100th National Conference, AJF, ANZ bank and Ironside High school were acknowledged for their support to the affected towns and received an appreciation award.

Jan 2013 - Australia donates mobile library to Fukushima community

In January 2013, Australia's support for Iitate continued with the opening of a new mobile library service , by Australian Ambassador to Japan Bruce Miller. The mobile library was jointly funded by the Australia-Japan Foundation and a charitable donation from Queensland's Ironside State High School.

Ambassador Miller expressed his hope that the mobile would play a role in bringing the local community closer together.

Oct 2012 - Australian Navy crew visits Iitate evacuees

In October 2012, crewmembers from the HMAS Sydney visited a kindergarten and junior high school attended by children evacuated from Iitate Village.

The crewmembers also met Iitate Council Chair Chohei Sato, who had just returned from an AJF-funded trip to Australia.

Oct 2012 - Mayor's visit to Australia

In October 2012, Minami Sanriku Mayor Jin Sato - together with Iitate Village Council Chair Chohei Sato - travelled to Australia to share experiences in coping with the longer-term effects of natural disasters. The visit was funded by the Australia-Japan Foundation.

Sep 2012 - Australia Jazz Musician visit Iwate schools

Following their superb performances at the prestigious Tokyo Jazz festival, Australian singer Steven Rossitto and his band paid a visit to two schools in earthquake - and tsunami - affected Iwate Prefecture to share their love of music with local children.

More Australian Jazz Musicians visit Iwate Schools .

July 2012 - Australia House Reconstruction Project

The Australia House Reconstruction Project was launched soon after the collapse of the original Australia House in a powerful aftershock on 12 March 2011. It was the result of many people's determination to continue the close relationship between Australia and the Echigo-Tsumari region.

Based on the concept of 'reasonable, robust and small' hazard-resistant construction, an international competition for the building's design was launched and a design proposal by Sydney architect Andrew Burns was chosen as the winner.

More: Press Release: Striking new Australia House open .

Apr 2012 - Australian Ambassador opens AJF-funded playground in Fukushima

In April 2012, the Australia-Japan Foundation (AJF) provided a playground for Iitate children attending a new, temporary kindergarten in Iino.

Australian Ambassador to Japan Bruce Miller and AJF Board Member Melanie Brock opened the new playground, together with Iitate Mayor Norio Kanno and Head of the Iitate Village Council Chohei Sato.

Mar 2012 - Gold Coast visit by Minami Sanriku students

In March 2012 a group of 24 schoolchildren from Minami Sanriku visited the Gold Coast , attending classes at a local school, staying with Australian families and seeing the sights.

We hope to continue this program in 2013.

Mar 2012 - Memorial

Australia was represented at Minami Sanriku's memorial service, on 11 March 2012, by the then-Vice Chief of the Defence Force Air Marshal Mark Binskin AO, Fire and Rescue NSW Chief Superintendent and leader of the Urban Search and Rescue Team Rob McNeil and representatives of the Australian Embassy.

At the Embassy, Chief-Supt McNeil spoke to a group of local school students about his experiences.

Oct 2011 - Recovery Market

Australia participated in Minami Sanriku's 'recovery market' in October 2011. More than 60 Australians and staff from the Australian Embassy travelled to the town to show their support for the town's recovery.

Embassy staff returned in April to participate in the market for a second time .

Sep 2011 - Australian Jazz Musicians play for Iwate 2011

Australian Jazz Musicians, Misinterprotato visited Schools in Iwate six months after the disaster to perform and conduct workshops with the students. On 30 and 31 August 2011, with cooperation from the Iwate Cultural Promotion Agency, the Australian Jazz trio Misinterprotato performed at Kesen Junior High School and Hirota Junior High School in Rikuzen-takata and Tsukuwagasaki Primary school in Miyako, two towns which were affected profoundly by the 3.11 Earthquake and Tsunami. It was the first time for most students to listen to Jazz but the trio arranged Japanese folk songs such as "Furusato (hometown)" which the children enjoyed. The students showed the musicians great smiles when they were given small gifts from Australia.

Apr 2011 - The then-Prime Minister Gillard's visit

The then-Prime Minister Julia Gillard visited Japan from 20 to 23 April 2011, to reaffirm Australia's support for the Japanese Government and the people of Japan in the aftermath of the Great East Japan Earthquake and tsunami.

She was the first foreign leader to visit officially after the disaster and travelled up to Minami Sanriku and met with Mayor Jin Sato. She also visited evacuation centres and met the local people.

The Australia-Japan Goodwill Dinner was held in Tokyo on 22 April 2011 to honour the victims of the Great East Japan Earthquake and demonstrate to the Japanese community Australia's commitment to standing alongside Japan at its time of need. The then-Prime Minister of Australia, the Hon Julia Gillard MP, and the then-Australian Ambassador to Japan, HE Mr Murray McLean, were in attendance, along with around 600 members of the Australian and Japanese government and business communities.

A truckload of Australian food arrived in tsunami-devastated Minami Sanriku as part of a package promised by Ms Gillard when she visited the town on Saturday 23 April 2011.

Mar 2011 - Initial response

A 76 Urban Search and Rescue team was deployed to Japan from Australia. The team was led by Mr Rob McNeil, Superintendent of the NSW Fire department and arrived in Japan on 12 March 2011. The team was sent to work in Minami Sanriku. This is how the strong friendship between Minami Sanriku and Australia began.

The RAAF C-17 aircraft that brought the team from Australia remained in Japan, transporting vital stores and equipment to assist the humanitarian effort. It flew 23 sorties as part of Operation Pacific Assist.

An Australian-led consular relief team has visited evacuation centres in the earthquake and tsunami devastated regions around Sendai. It was the first foreign Government relief team into the region. They worked with Canadian, UK, NZ and US consular officials to locate and identify foreign nationals in the evacuation centres.